Loose Weight With Garcinia
---



Date: December 03, 2009 01:10 PM
Author: Darrell Miller (dm@vitanetonline.com)
Subject: Garcinia, Hydroxycitric acid and weight loss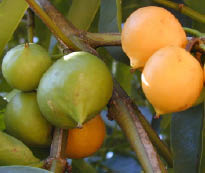 Garcinia is part of the plant genus in the family Clusiaceae. This plant is native to Asia, Austrlia, tropical and southern Africa, and Polynesia. The number of species of the garcinia plant is highly disputed, but various sources recognize between fifty and three hundred species that are specifically valid. The plants in this genus are commonly called saptrees, mangosteens, or monkey fruit.
Garcinia is a little-known fruit that can be found growing extensively in India and Thailand. Used for centuries as a condiment, garcinia is also known as Malabar tamarind or Gorkapuli. The garcinia fruit is about the size of an orange and orange in color. However, it looks similar to an acorn squash in appearance. With approximately two hundred different species of garcinia, only few contain the needed component necessary for herbal health. Scientists have identified the natural compound found in garcinia to be hydroxycitric acid, which can help to curb appetite, reduce food intake, and slow the body's fat production.
Hydroxycitric acid, that active component in garcinia, is similar to the citric acid that is found in citrus fruits like oranges, lemons, and grapefruit. The garcinia fruit is actually composed of about fifty percent hydroxycitric acid. This acid seems to have potent fat-fighting properties and is known for its ability to block the formation of fatty tissue, which results in less storage of fat. The rind of the garcinia fruit contains high amounts of hydroxycitric acid, which inhibits citrate lyase, which is an enzyme require to manufacture body fat. The hydroxycitric acid combines with citrate lyase, which leaves less of the enzyme available to form body fat and speeds up the fat-burning process. Some studies have found that fat production may actually be reduce by as much as seventy percent when taking hyroxycitric acid.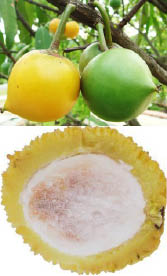 Studies have determined the significant weight-loss benefits on both animals and humans when using garcinia. One study, which involved fifty obese patients, gave 500 mg of garcinia rind to these patients daily, along with 100 mg of chromium. This was also combined with a low-fat diet. The individuals who were taking the garcinia-chromium lost an average of eleven pounds, while the control group reported only a four-pound weight loss.
Garcinia has been found to be beneficial in curbing the appetite, which aids in weight control and obesity. One study on animals found appetite reduction in lean and fat rats and mice. The animals ate less, and when hyroxycitric acid was added to their diets, their body fat decreased, but body protein was unaffected.
Garcinia is also thought to help burn fat through thermogenesis. When there is not enough thermogenic activity, weight gain can result. The thermogenic activity in garcinia is responsible for helping to increase heat production, specifically in brown fat, which is the body fat surrounded by blood vessels and energy cells. Brown fat is harder to lose because it requires more heat to burn.
The fruit of the garcinia plant is used to provide anorectic, anticatarrhal, astringent, demulcent, and thermogenesis properties. Primarily, garcinia is extremely helpful in dealing with excessive appetite, obesity, and weight-related conditions. Look to your local or internet health food store for this and other great products to help with weight loss.
Our Price: - $ 24.42 ...






Guarantee:
VitaNet® LLC Offers a 100% Satisfaction Guaranteed!