Fight Pain, Anxiety, and Stress With Passion Flower Herb
---



Date: December 23, 2009 03:36 PM
Author: Darrell Miller (dm@vitanetonline.com)
Subject: Passion Flower Herb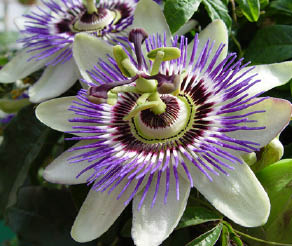 The passion flower comes from a genus of about five hundred species of flowering plants. These herbs are mostly vines, although some are shrubs. A few of these plants are herbaceous.
Passion flower has been found to be extremely soothing on the nervous system. It is used for conditions such as insomnia, hysteria, anxiety, and hyperactivity. Additionally, it is useful for eye conditions such as inflammation, dimness of vision, and eye irritations. Native Americans use this herb as a tonic and poultice for both bruises and injuries. Passion flower was used by the Aztecs as a sedative and for pain. The juice was also used for sore eyes, while the crushed plant tops and leaves were used for treating hemorrhoids and skin eruptions. Passion flower was listed in the National Formulary from 1916 to 1936. This herb was called the nonpoisonous and not dangerous opium of the natural physician by R. Swinburne Clymer, MD.
This herb is able to depress the central nervous system, helping with insomnia, anxiety, and nervousness. It may also be useful in lowering high blood pressure. Combinations that contain valerian and passion flower are considered to be very useful as a natural tranquilizer. This herb is also thought to be safe for both children and the elderly.
Passion flower contains a variety of complex substances that work on the nervous system and act as a sedative. The components that are responsible for the overall effect are not specifically known. However, maltol, ethyl-maltol, and flavonoids are all thought to contribute. Most research has centered around the sedative action and has found good results. Passion flower extract has also been found to reduce locomotor activity and prolong sleep. Passiflorine is thought to be one of the active ingredients of the plant. It has some similar activity to that of morphine. It contains anti-inflammatory properties that may be helpful in treating those who are suffering from arthritis. An additional benefit of passion flower is its ability to kill a wide variety of organisms. Among these are yeasts, molds, and bacteria. Passion flower works as an antispasmodic on the digestive system smooth muscles and the uterine muscles. This makes it an effective digestive aid for menstrual cramps. This herb contains both calcium and magnesium, which are essential for the nervous system.
In short, the passion flower herb is used to provide anodyne, anti-inflammatory, antispasmodic, diaphoretic, nervine, and sedative properties. The primary nutrients found in this herb are calcium and magnesium. Primarily, passion flower is extremely beneficial in dealing with alcoholism, anxiety, spasmodic asthma, high blood pressure, eye infection, eye tension, fevers, headaches, insomnia, menopausal symptoms, nervousness, and neuralgia. Additionally, this herb is very helpful in treating bronchitis, convulsions, depression, diarrhea, dysentery, epilepsy, eyestrain, painful menstruation, muscle spasms, pain, Parkinson's disease, restlessness, seizures, and poor vision.
In order to obtain the best results when supplementing with this, or any herb, it is important to consult your health care provider before beginning any regimen. For more information on the many beneficial effects provided by passion flower, please feel free to consult a representative from your local health food store with questions.
Guarantee:
60 Day - 100% Satisfaction Guaranteed!
Guarantee:
VitaNet® LLC Offers a 100% Satisfaction Guaranteed!