Improve Your Health with DHEA
---



Date: March 16, 2010 12:27 PM
Author: Darrell Miller (dm@vitanetonline.com)
Subject: DHEA and Your Health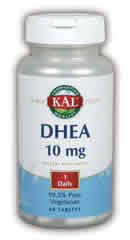 DHEA is a naturally occurring hormone that is produced within the adrenal glands. The most abundant hormone found in the body, it is sometimes referred to as the "mother hormone." When hormone levels are too low or out of sync, the body is unable to function as intended. DHEA levels reach their peak in the body around age twenty-one. After that, the levels tend to decline over the years. This substance is a precursor hormone that can be metabolized into other adrenal hormones and act with other hormones.
When DHEA levels are normal, it aids the immune system in maintaining balance and fighting diseases and infection. This, in turn, protects the body form a variety of serious problems that can occur, including cancer. Although the full extent of DHEA's benefits is not entirely known, there is a great deal of evidence that links low levels of DHEA to conditions such as cancer, Alzheimer's disease, arthritis, osteoporosis, chronic fatigue syndrome, diabetes, fertility problems, lupus, rheumatoid arthritis, multiple sclerosis, allergies, PMS, and even weight problems. Many people even believe that this hormone is the single most important factor in maintaining health.
Scientific studies have determined that individuals with cancer seem to have lower levels of DHEA than those individuals who are healthy. It has been found that DHEA has the ability to inhibit one of the most important enzymes that is responsible for the feeding of cancer cells. Research has also concluded that DHEA can help in a variety of types of cancer, including colon, lung, skin, breast, lymphatic, gastric, prostate, and ovarian. It is believed that DHEA aids in slowing the growth of cancer. This hormone also blocks some of the enzymes that are responsible for cancer proliferation, which helps to prevent the activity of cancer and stops damage from occurring.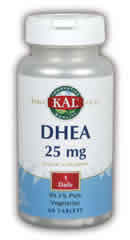 Alzheimer's condition is extremely frightening, as it deals with the loss of memory and senility. It has been found that levels of DHEA in Alzheimer's patients are forty-eight percent lower than the normal, healthy level established by the control group. DHEA is responsible for protecting the brain cells from damage and deterioration. Also, it is useful with other degenerative conditions that deal with senility. In healthy individuals, DHEA can be found abundantly in brain tissue, which protects against aging and damage.
DHEA is a precursor for cortisol and adrenaline, both of which are stress hormones. DHEA can become depleted when the body is under stress due to the effect on the adrenal glands. Because of this, chronic stress can lead to lower levels of DHEA, which can be detrimental to one's health. It has been found the prolonged stress can lead to cases of depression, with depression being helped by the addition of DHEA. Individuals with depression have found favorable results when using DHEA.
It has been shown that DHEA therapy is free of side effects when taken in proper amounts. Some problems that occur when excess amounts of DHEA are supplemented include acne, rapid heartbeat, irritability, and headaches. The majority of people solve these problems by lowering the amount they are taking. For more information on the many beneficial effects provided by DHEA, please feel free to contact a representative from your local or internet health food store.
Dhea is a hormone naturally found in the body now available over the counter at your local health food store.
~video~
Guarantee:
VitaNet® LLC Offers a 100% Satisfaction Guaranteed!