How Does L-Lysine Help with Herpes?
---



Date: February 08, 2011 01:36 PM
Author: Darrell Miller (dm@vitanetonline.com)
Subject: How Does L-Lysine Help with Herpes?

L-lysine has been proven effective in the reduction of herpes outbreaks. The viruses that cause herpes simplex successfully multiply at an exponential rate during symptomatic shedding, but their capacity to sustain replication is challenged in the presence of L-lysine, which at very high concentrations has shown to damage progeny of herpes virus. Hence, the severity and duration of outbreaks are curbed.
One of the limiting resources of protein synthesis in human beings and most other vertebrates is the availability of L-lysine in the body. Some of the amino acids implicated in protein synthesis can be manufactured inside the body from their substrates, but this amino acid does not belong to this group. The amounts of L-lysine in our body systems are completely dependent on its presence in our diet, thus dubbed essential amino acid.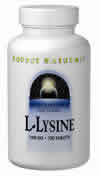 Limiting Factor to Growth
L-lysine plays a variety of important roles in the human body, and a shortfall of this amino acid has been reported to limit growth, resulting in malabsorption or even malnutrition. It is a building block of all types of proteins in humans, including the visible mass that makes up a muscular physique. It is central to the absorption of calcium, the production of enzymes, and the regulation of hormones. In addition, it is greatly involved in functions that lead to recovery following physical trauma or surgery.
More importantly, L-lysine is a focal constituent in the manufacture of immunoglobulins, the front-liners against diseases. Immunoglobulins are a class of proteins in the blood that we commonly refer to as antibodies, which neutralize pathogenic microbes invading the cells and tissues of the body. In fact, L-lysine is one of the protein bases in use to monitor the activities of antibodies, detecting abnormalities at the molecular level and paving the way for future developments of drugs with medicinal potential.
Boosting the Body's Defenses
While L-lysine is important to the overall production of antibodies, it has also been observed that very low levels of this essential amino acid in the body compromises the ability of the immune system to fight off infectious diseases. The incidence of symptomatic herpes in individuals known to consume L-lysine supplements are relatively low than those who don't. Symptomatic herpes manifest in the form of painful skin lesions called fever blisters, also known as cold sores, around the mouth, but may appear and spread anywhere in the body, such as the eyes, the fingers, and the genitals.
When taken at recommended dosages, L-lysine in itself combats the replication process of herpes virus in the body, not only ending outbreaks promptly but also speeding up the healing process in the area of damaged tissues with very little scarring. Herpes virus has been noted to feed on another amino acid identified as L-arginine, and consumptions of sources of this amino acid like nuts and chocolates have been reported to give rise to symptomatic herpes. This is one of the things taken care of by L-lysine, since it out competes the effects of L-arginine to herpes viruses.
L-lysine is available in capsule, tablet, and powder forms at your local or internet vitamin store. Always choose name brands like Source Naturals to ensure quality and purity of the product you by for better health.
Guarantee:
VitaNet® LLC Offers a 100% Satisfaction Guaranteed!