Lycopene is More than Just a Tomato Extract!
---



Date: February 08, 2011 04:38 PM
Author: Darrell Miller (dm@vitanetonline.com)
Subject: Lycopene is More than Just a Tomato Extract!

Lycopene is a naturally occurring antioxidant, and a very powerful one at that. Like beta-carotene, it is a carotenoid, a phytochemical that gives certain plants their orange or bright red pigmentation. While lycopene belongs to a group of carotenoids called carotene, known precursors of vitamin A, it does not get converted into vitamin A inside the human body, which is not a bad thing, inasmuch as lycopene in itself exhibits antioxidant properties that surpass the effects of vitamins.
Tomatoes are very rich in lycopene, and indeed consumptions of tomatoes have been reported to show the antioxidant properties of lycopene. Papayas, pink guavas, and watermelons are also good sources of this compound, but the plant source identified to have the highest concentrations of lycopene is Gac, in English also known as Sweet Gourd, a bright red fruit native to Southeast Asia and largely unknown to the rest of the world. With that, a significant fraction of the total lycopene consumption worldwide is derived from tomatoes.
Reactive Oxygen Species (ROS)
Chemical reactions in the human body that respond to the presence of oxygen are part of a process called oxidation, which takes place everywhere else in nature. These reactions entail a change in the oxidation number of atoms or molecules involved in the movement of electrons between molecules inside the body, giving rise to toxic by-products collectively known as reactive oxygen species.
When cells produce the energy that they use to power their physiological functions, they also produce reactive oxygen species, or ROS, which is now believed to be a key factor in the progression of physical infirmities associated with the aging process of human beings and other mammals. That being said, ROS are actually in the employ of the immune system, and particularly effective against pathogens, which may be invasive extracellular matter or harmful microorganisms.
Every single cell make use of enzymes that change the chemical makeup of unnecessary ROS, which must always be kept in check as they damage cells even at low amounts. These enzymes outmaneuver the damaging activities of ROS, thereby protecting the cells. In spite of that, the human body is known to produce more ROS as we age or during long-standing exposure to stress.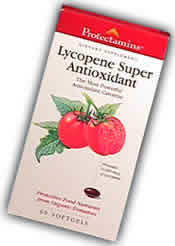 Lycopene versus ROS
One type of ROS is singlet oxygen, a form of oxygen that is highly reactive to free radicals. In fact, singlet oxygen is a known catalyst of free radicals especially when it gets excited at the molecular level. Lycopene is the best known carotenoid to counter the damaging effects of singlet oxygen in the human body, and reported to have antioxidant properties far superior to vitamin E and glutathione.
The good thing about lycopene is that its bioavailability compounds when exposed to heat, so cooking tomatoes actually brings out the goodness of this chemical compound. Lycopene acts against the proliferation of cancer cells in a number of mechanisms, and, to date, there have been innumerable reports in support of the role of lycopene against most known types of cancer.
Have you had your Lycopene today?
Guarantee:
VitaNet® LLC Offers a 100% Satisfaction Guaranteed!