What Is Elderberry Good For?
---



Date: December 21, 2012 12:00 PM
Author: Darrell Miller (dm@vitanetonline.com)
Subject: Elderberry An Immune Booster And More!

Elderberry Flower And Fruit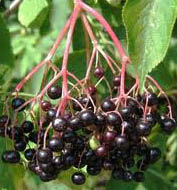 elderelder
Elderberries are fruit shrubs that are native to North America and Europe. Unlike other organic foods that claim to have medicinal benefits, elderberries have crossed the border of being just a folk medicine to becoming an authentic treatment for a host of ailments, as backed by scientific research and studies. Today, elderberry has become a popular medicine for prevention and treatment of diseases. It is available in powder, syrup, capsule, and extract form.

A Good Antioxidant

Elderberries contain carotenoids, flavonoids, anthocyanins and polyphenols. These are antioxidants that fight free radicals. Free radicals are naturally occurring as by-products of metabolism, but as a person ages the antioxidants that the body produces cannot fight these anymore, as aggravated by pollution, smoke, and radiation. This causes the death of cells, which hastens aging and makes the body vulnerable to diseases. The antioxidants that you get from elderberries can reverse this process, putting a stop to the damage caused by free radicals.

Makes Your Heart Healthy

The number one enemy of the heart is bad cholesterol or LDL. Bad cholesterols form plaques in the arteries, which increase the risks for heart attacks and strokes. Elderberries are known to lower the levels of LDL in the body, thus, prevent the occurrence of cardiovascular diseases.

Strong Immune System

Elderberry boosts the production of cytokines, proteins that send signals to the immune system. With a faster communication between cells when the body is under attack by virus or bacteria, immune molecules can take abrupt actions to travel to the site of the attack and fight it off. Therefore, even if the body is exposed to a contagion, it can recover with less damage because of a strong immunity.

Anti-viral

As proven during the influenza outbreak in Panama in 1993, elderberry has aided in the hasty recovery from the virus. According to studies, the extract from the fruit contain glycoprotein that inhibits the replication of the virus, thus, stopping its attack. The high vitamin content in elderberries also helps in the prevention of respiratory diseases like colds, bronchitis, and asthma.
Our Price: - $ 12.99 ...






Our Price: - $ 11.00 ...






Our Price: - $ 12.99 ...






Guarantee:
VitaNet® LLC Offers a 100% Satisfaction Guaranteed!