Prevent Bone Loss Naturally
---



Date: November 17, 2013 02:16 AM
Author: Darrell Miller (dm@vitanetonline.com)
Subject: Prevent Bone Loss Naturally

What is Bone Loss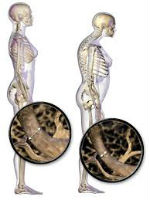 Bone loss is the condition that results when the body cannot make new bone quickly enough to replace old bone that is broken down. Contrary to popular belief, bone is not just a solid structure, rather a living tissue that replaces itself through the process of destroying and creating new. If bone loss is not treated, the bones become very weak and are prone to break, a condition known as osteoperosis.
Risk Factors for Bone Loss
There are several different risk factors for bone loss and essentially osteoperosis. While this can include age, gender and even body composition, nutrition can also play an equally important role. Those who do not obtain enough Vitamin D, calcium or magnesium in the diet are more likely to suffer from this problem. However, there are several preventative actions and treatments which may be available.
Prevention and Treatment
Obtaining the recommended daily allowances (RDA) of calcium, Vitamin D and magnesium can help prevent and even aid in the treatment of bone loss. While milk is most often boasted for being the best source, this is not entirely so. First and foremost, not everyone enjoys or can tolerate milk and milk based products, meaning that this may not be the best option. Costly prescription drugs are an option, but these are not necessary.

An acidic body can draw out calcium and other minerals. Eating lots of green vegetables along with taking a calcium supplement can balance the body and bring its pH up to the needed 7.0 - 7.3 that is needed for good health and wellness.

Alternate Remedies
Those that wish to prevent or obtain alternate treatment for bone loss will have a variety of options available to them. However, supplements may be the best choice for many consumers. Magnesium, Vitamin D and calcium supplements are an affordable option that are available over-the-counter. There are no amounts to keep up with, just a once-a-day oral form that is quick-and-easy. These products are perfectly safe and can be great for the lactose intolerant or those who simply are not a fan of milk. Recent studies suggest that we need a lot more vitamin D in the body. 2000IU to 5000IU are recommended on a daily basis.

References:
What is Bone Loss? eMedicine, WebMD, 2013. Accessed 11, November 2013. //www.emedicinehealth.com/what_is_bone_loss/article_em.htm.
Guarantee:
VitaNet® LLC Offers a 100% Satisfaction Guaranteed!