Omega-7 - Another healthy fat with benefits
---



Date: September 22, 2016 04:46 PM
Author: Darrell Miller
Subject: What You Should Know About Omega-7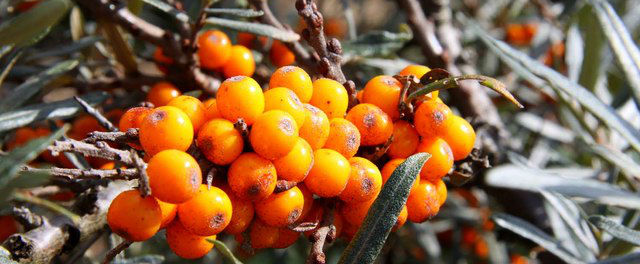 The Sea Buckthorn has been a subject of amazement to the scientists in the recent months. What makes these shrubs so special is that they have the highest concentration of an unsaturated fatty acid known as Omega-7. In fact, some experts believe that it has more health benefits than Omega-3.
Though its benefits are new to us, the Eastern medical system has relied on Omega 7 to treat stomach problems for a while. It's useful for maintaining the cardiovascular health, preventing heart diseases. Recent researches have shown that it can also help maintain healthy cholesterol levels and blood sugar levels.
Omega-7 is highly beneficial for skin, nails, and hair. It provides essential nourishment to skin and enables it to fight harsh conditions. It is also responsible for lubricating and enriching the mucous membrane, keeping the eyes watery and protecting them from small particles.

To sum it up, sea buckthorn can:
Improve Cardiovascular health
Improve Cholesterol
Improve Blood Sugar
Lubricate Mucous Membranes (eyes)
Enrich the Hair, skin and nails.
What is stopping you from adding this essential fatty acid to your diet?
References:

//www.seabuckthorninsider.com/omega-7/sea-buckthorn-omega-7/

//www.seabuckwonders.com/education/omega-7-health-benefits/

//www.everydayhealth.com/heart-health/omega-7-the-new-healthy-fat.aspx
//www.besthealthnutritionals.com/blog/2013/12/05/omega-7-benefits/
Our Price: - $ 33.57 ...






Our Price: - $ 16.48 ...






Guarantee:
VitaNet® LLC Offers a 100% Satisfaction Guaranteed!