Look New - Hoodia Liquid by The Awesome Brand Source Naturals
---




Date: February 08, 2006 05:20 PM
Author: Darrell Miller (dm@vitanetonline.com)
Subject: NEW PRODUCT ANNOUNCEMENT

Hoodia Liquid Extract Hoodia Gordonii 20:1
Hoodia gordonii is a succulent plant found in the Kalahari Desert of South Africa.
For over a thousand years the hoodia plant has been a nutritional secret of the San Tribesmen.
This convenient liquid extract offers the concentrated power of hoodia for contemporary use of an ancient food source.
Ingredients: 2 ml (approx. 1/4 teaspoon) contains:
Calories 5 Hoodia gordonii Stem Extract (20:1) 500 mg
Suggested Use: 1/8 to 1/4 teaspoon, one hour before a meal. May be taken with an 8 ounce glass of water.
Our Price: - $ 19.81 ...






Guarantee:
VitaNet® LLC Offers a 100% Satisfaction Guaranteed!
---




Date: April 16, 2007 12:48 PM
Author: Darrell Miller (dm@vitanetonline.com)
Subject: Hoodia gordonii Standard from South Africa!

Hoodia gordonii, for very good reasons, has attained a high degree of popularity in the United States. There are standard laboratory tests that prove whether a hoodia product is true Hoodia gordonii and if it contains a significant amount of the active compound Oxypregnane, sometimes called P-57.
Source Naturals tests every lot of Hoodia gordonii according to a standard provided by the government of Namibia in southern Africa, one of the main exporters of Hoodia. Source Naturals runs HPTLC (High Performance Thin Layer Chromatograph) testing against the raw material that we purchase, and we subject the raw material sample to LC-MS (Liquid Chromatography with Mass Spectroscopy).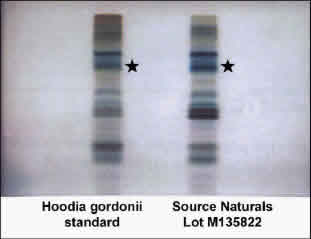 Above are two chromatograph pictures of true Hoodia gordonii. The picture on the left is the standard approved by the Namibian government. The image on the right is from a batch of Hoodia purchased by Source Naturals.
Every plant extract has a unique identifying chemical signature that can be tested in a chromatograph. The bands represent the various chemicals in the compound. As you see above, the Source Naturals sample has the same bands in the same position as the standard, proving that it is true Hoodia gordonii.
The band marked by the star represents the active constituent, P-57. As you can see, there is a strong presence of P-57 in the Source Naturals Hoodia Gordonii raw material.
Unless a compound can be tested to show a similar chromatograph with similar banding, it may not be pure, 100% Hoodia gordonii.