Boost Your Immune System With Planetary Herbals, Full Spectrum Chaga Mushroom
---



Date: April 09, 2010 11:58 AM
Author: Darrell Miller (dm@vitanetonline.com)
Subject: Chaga Mushroom - Planetary Herbals - Immune Health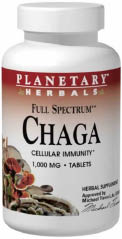 This unusual mushroom, a lumpy, charcoal like growth on birch trees, has been known for centuries, throughout the world, for its health benefits. Modern research has shown that chaga has 215 phyto nutrients, including 29 beta glucans. Chaga also absorbs a compound from the outer birch tree bark, betulin, the precursor to betulinic acid. Betulinic acid has been shown to increase healthy inflammatory response in mammals. Beta glucans stimulate the body's macrophage, T helper cells, natural killer cells, and B cells, which help the body produce antibodies. Among the components in chaga are triterpenes, sterols, beta glucans, flavonoids, melanins, polyphenols, saponins, lignin, amino acids, vitamins, minerals, and fibers. This fascinating combination of nutrients and compounds is being studied world wide, and has been shown in preliminary studies to trigger and stimulate the body's immune responses and protect the cells with antioxidant action.
Chaga Mushroom Key Points:
It Increases Immune Response.
It Can Help Promote Cellular Health.
And It Can Help Protect the body with antioxidants.
Guarantee:
VitaNet® LLC Offers a 100% Satisfaction Guaranteed!