How Does Saw Palmetto Help With Prostate Problems in Men?
---



Date: July 12, 2011 01:01 PM
Author: Darrell Miller (dm@vitanetonline.com)
Subject: How Does Saw Palmetto Help With Prostate Problems in Men?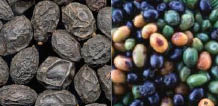 Saw palmetto is considered the most commonly used of all herbal preparations formulated for prostate problems. It has been associated with the treatment of prostate infections, inflammation, hyperplasia, and even cancer. It is historically used to help maintain fitness and health in older men. It is now best known as a remedy for benign prostatic hyperplasia, a noncancerous enlargement of the prostate.
Serenoa repens is the scientific name of the plant species referred to as saw palmetto. It has a wide distribution in the warm temperate and subtropical regions of North America. As its name suggests, it is a palm tree bearing evergreen leaves. It is a small plant that grows up to 7 meters in height. Like several other species of palm, it bears an edible fruit, which is actually a drupe similar to dates in size.
Being the most abundant of all palm species in North America, it has been extensively used by Native Americans as a food source and medicinal herb. In addition to its traditional uses for disorders of the reproductive and urinary systems, the berries are known for their antiseptic and mucolytic properties. Extracts from the fruits are utilized to make tinctures, tonic, salves, poultices, and herbal infusions.
European colonists and early settlers learned of the medicinal value of saw palmetto from the Mayans and the Seminoles in particular. These groups of indigenous peoples utilized almost all parts of the plant for a diverse variety of purposes. It remains an important part of folk medicine practices that promotes infertility, softens phlegm, stimulates appetite, alleviates pain, and reduces prostate.
Today extracts of saw palmetto are licensed products in several European countries as it has been the subject of many scientific studies. There is good scientific evidence that it is useful in the management of symptoms of benign prostatic hyperplasia. It has also been used to relieve prostate infections. It is one of the herbal remedies that show specific medicinal potential in the treatment of prostate cancer.
Benign prostatic hyperplasia is a condition that afflicts at least 50 per cent of men in their fifties and up to 75 per cent of men in their eighties. While it is not considered life-threatening, it is the cause of several urinary and reproductive problems, such as frequent urination, involuntary leakage, urinary intermittency, painful urination, urinary retention, obstructive uropathy, and even erectile dysfunction.
Medicinal amounts of saw palmetto extracts have been compared to prescription drugs for benign prostatic hyperplasia, such as finasteride and tamsulosin. Its mechanisms of actions remain a matter of discussion, though it is believed that it exerts an inhibitory effect on 5-alpha reductase, which is involved in prostate enlargement. The good news is that it is safer than these medications and even far more superior to placebo.
Get some saw palmetto today and feel the difference it can make for you!
Guarantee:
VitaNet® LLC Offers a 100% Satisfaction Guaranteed!