*MSRP:

$150.95

Our Price:

$105.68

Description:
UPC: 819193020616
# HU0084
What is CoQ10?
Found everywhere throughout the body, Coenzyme Q10, or CoQ10 for short, is a vitamin like nutrient that plays the role of both an antioxidant and a cellular energizer. Given the scientific name Ubiquinone after its discovery in 1958, CoQ10 plays a key role in every single biological function of the body.
What is Ubiquinol CoQ10?
More than 90% of the circulating CoQ10 in our body is present as Ubiquinol -- the "active" antioxidant form of Coenzyme Q10. Research has shown the Ubiquinol form of CoQ10 to be absorbed better than the Ubiquinone form. However, not ALL Ubiquinol is created equal. See below!
Why Choose Health Thru Nutrition Ubiquinol?
Our Non-GMO Health Thru Nutrition Ubiquinol features Kaneka Ubiquinol™. And, as with all of our products, it is manufactured in the USA under the most stringent cGMP standards.
We use the same Ubiquinol derived from world's most recognized and researched CoQ10 – the only all-natural yeast-fermented and bio-identical CoQ10 available. Research and exacting manufacturing standards make Health Thru Nutrition's Ubiquinol one of the strongest lipid-soluble antioxidants available today.
Best of all, Health Thru Nutrition's Ubiquinol uses a PATENTED Enhanced Stability Formulation that guarantees you receive the Active Ubiquinol your body needs day in and day out.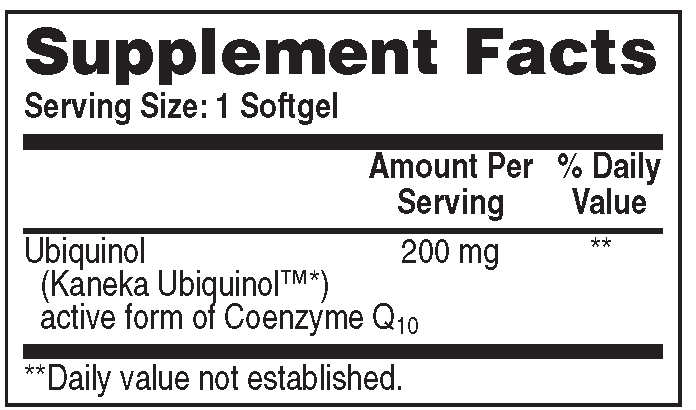 Other Ingredients: Medium chain triglycerides, gelatin, glycerin, ascorbyl palmitate, purified water, beeswax, sunflower lecthin and annatto suspension in sunflower oil.
Free of: Milk, egg, fish, shellfish, tree nuts, wheat or gluten containing grains, peanuts, and soybeans or soy. (Gluten Free, Soy Free, Non-GMO)
Directions: Adults: Take one (1) to two (2) softgels daily with meals as a dietary supplement or as recommended by your healthcare professional.
KEEP OUT OF THE REACH OF CHILDREN.
If you are pregnant or nursing a baby, seek the advice of a health professional before using this product. Keep bottle tightly closed. Store in a cool, dry place at controlled room temperature 15°C-30°C (59°F-86°F).Do not refrigerate.
The use of Ascorbyl Palmitate in the formulation is covered by U.S. Patent No. 6,740,338
Exclusively Formulated and Manufactured in a US cGMP Certified Facility