*MSRP:

$44.29

Our Price:

$35.99

Description:
UPC: 878941002304
# LCM04
Liquid Cal/Mag/Zinc is a complementary blend of premium forms of calcium, magnesium, and zinc that has been supercharged with Ionic Trace Minerals to help support the assimilation and absorption of these minerals in the body.† We've also included vitamin D to create a formula that provides complete nutrition to maintain bone, muscle, and connective tissue health.†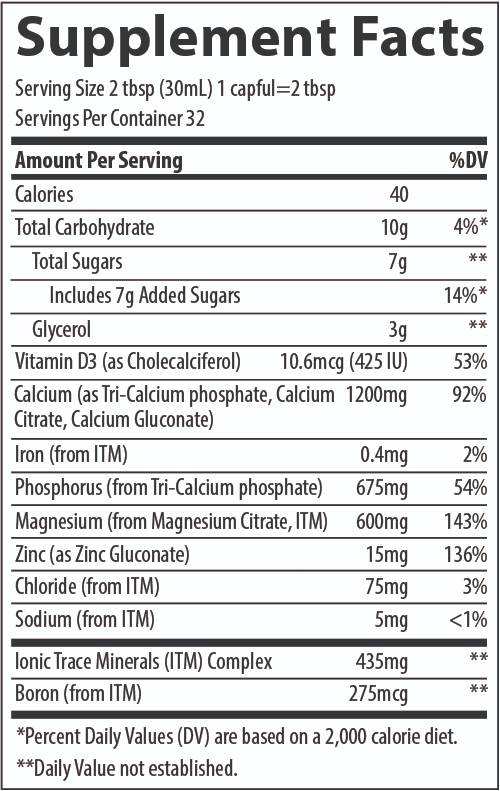 INGREDIENTS: Purified water, natural vegetable glycerin, natural strawberry flavor, citric acid, phosphoric acid, xanthan gum, potassium benzoate, potassium sorbate (for freshness).
ALLERGEN INFO: NO KNOWN ALLERGENS. GLUTEN FREE.
SUGGESTED USE:
SHAKE VIGOROUSLY. Take 1 to 2 tbsp. daily (one capful = 2 tbsp.), to top off or fully supplement your diet. As this is a highly concentrated product, we recommend starting with 1 tbsp. and increase as needed, ideally spread throughout the day. We also recommend taking this product mixed into or with a large glass of liquid for the best isotonic balance. Excess magnesium may cause a laxative effect. Rinse cap after each use. REFRIGERATE AFTER OPENING.
32 servings per bottle.
200 mg Calcium
600 mg Magnesium
15 mg Zinc
Vitamin D3
ConcenTrace®
Recent research highlights the important health benefits of maintaining proper bone mass for a lifetime. Proper exercise and supplementation of calcium and vitamin D for those not getting enough in their diet can help promote healthy bones.
This fast-absorbing ionic liquid formula has a great strawberry flavor. It also contains ConcenTrace®, a full spectrum ionic trace mineral complex of over 72 trace minerals and elements that help to aid in the absorption process.†
As an additional benefit, calcium, magnesium and zinc play an integral role in the body's energy generation and enzyme production at the cellular level.†
We also back our products up with our "Feel the Difference or Your Money Back!" quality guarantee, one of the best guarantees in the industry. Try a bottle of Liquid Cal/Mag/Zinc today!
Introducing Liquimins, ionically charged liquid minerals from Trace Minerals Research. Surging with over 72 minerals and trace elements that your body needs for optimal health, Liquimins are absorbed quickly because they're liquid.† And because the minerals are ionically charged, they increase the absorption of other nutrients, too.†
They're perfect for those who prefer taking liquid supplements rather than tablets. And with Liquimins you get all the health benefits of minerals and trace elements with the ease, convenience, and speed of a liquid supplement.
Look for the Liquimins drop on the label and feel the difference a full spectrum of ionically charged minerals can make.