*MSRP:

$35.99

Our Price:

$27.00

Description:
UPC:
# MAGCHEW01
Magnesium is the fourth most abundant mineral in the body and participates in over 300 biochemical reactions.† Magnesium also plays a key role in nerve conduction, muscle contraction, bone and tooth formation, metabolism, energy production, and heart and circulatory health.† However, research has concluded that 68% of Americans don't consume the Recommended Daily Intake (RDI) of magnesium. Magnesium Chewable is a great tasting dietary supplement to help you maintain healthy levels of magnesium in your body.†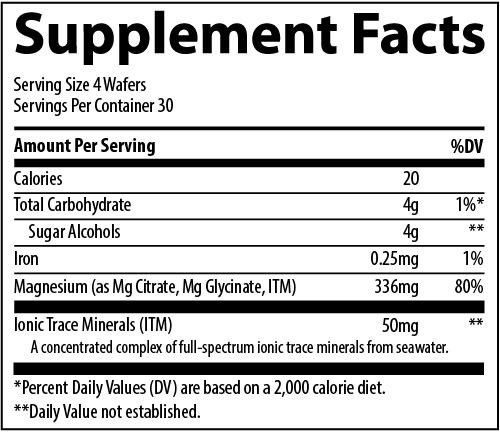 INGREDIENTS: Xylitol, sorbitol, natural flavor blend (natural flavor, mixed berry, lemon juice, citrus), microcrystalline cellulose, stearic acid, hypromellose, citric acid, magnesium stearate, Exberry™ color, steviol glycosides, silicone dioxide.
ALLERGEN INFO: NO KNOWN ALLERGENS. GLUTEN FREE.
SUGGESTED USEAdults and children age 4 and older, chew up to 4 wafers daily. Products high in magnesium may cause a laxative effect. If this occurs, divide the daily number of wafers taken into multiple servings throughout the day.
KEEP OUT OF REACH OF CHILDREN.
30 servings per container.
Anti-Stress† – Relaxing† – Heart† – Muscles† – Cell Integrity† – Immunity† – Bones† – Nerves†
84mg of magnesium per serving.
Supercharged with a concentrated complex of full-spectrum ionic trace minerals from sea water.
Magnesium is the fourth most abundant mineral in the body and participates in over 300 biochemical reactions.† Magnesium also plays a key role in nerve conduction, muscle contraction, bone and tooth formation, metabolism, energy production, and heart and circulatory health.† However, research has concluded that 68% of Americans don't consume the Recommended Daily Intake (RDI) of magnesium. Magnesium Chewable is a great tasting dietary supplement to help you maintain healthy levels of magnesium in your body.†