Reduce Migraine Headaches With Feverfew Herb
---



Date: October 20, 2009 12:02 PM
Author: Darrell Miller (dm@vitanetonline.com)
Subject: Feverfew Herb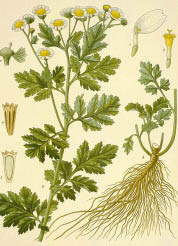 For thousands of years feverfew has been used for the treatment of various ailments. History is full of references to feverfew. Dioscorides, an ancient Greek herbalist, recommended the use of feverfew almost two thousand years ago, as he valued the herb for childbirth, fevers, melancholy, and congestion of the lungs. It was also suggested for arthritis. In 1772, feverfew was suggested to be used to treat painful headaches. Many people believe that feverfew obtained its name from its use as a remedy for bringing down fevers, but this has been determined to be incorrect. Instead, the name came from the traditional Old English name for feverfew, featherfew. Featherfew came from the feather-shaped leaves of the feverfew plant.
Feverfew has been used for a long time as a natural remedy for pain relief, as it is considered an excellent remedy for migraines. This herb was used to treat any kind of pain and helped with chills and fever. Additionally, it helps in relieving colds, dizziness, tinnitus, and inflammation from arthritis. The herb works gradually and with a gentle action that allows the body to heal itself.
The most popular use of feverfew is in the prevention and relief of migraine headaches. In a study, those given the placebo had an increase in frequency and severity of headaches, nausea, and vomiting. On the other hand, those given the feverfew capsules had no increase in frequency or severity of migraines. A randomized, double-blind, placebo-controlled, crossover study was done on seventy-two volunteers. One group received capsule dried feverfew leaves, while the other received a placebo. The group taking feverfew showed less severity of attacks and a reduction in symptoms that were associated with migraines, including vomiting. There was a definite improvement in the group using feverfew and no serious side effects resulted. Because some forms of migraines are believed to be associated with abnormal platelet behavior, feverfew may be beneficial as it has been found to help restrain the release of serotonin from platelets. This prevents a migraine from occurring.
It is thought that feverfew may also be a useful treatment in cases of rheumatoid arthritis. This is because of its ability to inhibit the formation of inflammation-promoting compounds like prostaglandins and leukotriene.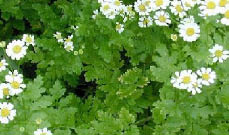 This herb seems to have similar properties to non-steroidal anti-inflammatory agents (NSAIDs), like aspirin. Feverfew may actually be even more effective with a lot fewer potential complications. Some of the studies involving feverfew and migraines have shown that feverfew may also lower blood pressure.
The leaves and flowers of the feverfew plant are used to provide alterative, analgesic, anti-inflammatory, antimicrobial, aromatic, bitter, carminative, emmenagogue, febrifuge, nervine, parasiticide, mild purgative, stimulant, and vasodilator properties. The primary nutrients found in this herb are iron, niacin, manganese, phosphorus, potassium, selenium, silicon, sodium, vitamins A and C, and zinc. Primarily, feverfew is extremely helpful in dealing with chills, colds, fever, headaches, sinus headaches, and inflammation.
Additionally, this herb is very beneficial in treating aches, ague, allergies, anxiety, arthritis, insect bites, poor circulation, dizziness, gastric disorders, nervous headaches, hot flashes, indigestion, and menopausal symptoms, absent menstruation, nervousness, tinnitus, and vertigo. For more information on the many beneficial effects provided by feverfew, please contact a representative from your local health food store.
Guarantee:
VitaNet® LLC Offers a 100% Satisfaction Guaranteed!