Sooth The Stomach And Digestive Track With Peppermint
---



Date: October 30, 2009 12:45 PM
Author: Darrell Miller (dm@vitanetonline.com)
Subject: Peppermint oil

Peppermint was used by both the Romans and Greeks in some of their sacred rites. It was highly regarded for its medicinal purposes. The Romans used mint as a stomach aid and also to promote digestion. The Greeks also used this herb for a variety of different ailments. Mint can be found all throughout stories in Greek mythology. The leaf of peppermint was used by Native Americans in a tea form as a carminative, in order to prevent vomiting, nausea, and fevers. The peppermint plant is native to Europe. There are many different varieties of peppermint. The plant is actually believed to be a hybrid between spearmint and water mint.
Peppermint leaf is believed to be one of the great herbal remedies and is very useful to have around the house. It is very easy to grow, either in the garden or the home. The herb contains warming oil that is effective as a nerve stimulant. The oil is helpful in increasing oxygen in the blood and working to clean and strengthen the entire body. Peppermint is a great sedative for the stomach. It has been found to contain properties that stimulate the flow of bile and help to settle the stomach after vomiting. The herb is beneficial in dealing with nausea, chills, colic, fevers, gas, and diarrhea. It is able to cleanse, soothe, and relax the body. Peppermint has long been recommended by herbalists for digestive problems. Additionally, it is used for convulsions in infants, to increase respiration, for colds, and to strengthen the entire body.
The menthol that is found in peppermint is believed to be the major component responsible for the medicinal value that it provides. Peppermint plants contain somewhere between fifty and seventy-eight percent menthol. Studies have determined that there are numerous volatile oils in peppermint, which possess antibacterial activity in vitro. It is yet to be determined just how effective peppermint will be in clinical studies. It is also believed that the oil of peppermint is able to sooth gastrointestinal contractions and help to relieve gas. Peppermint's volatile oils produce relaxation on the smooth muscles. This may be beneficial in conditions such as irritable bowel, abdominal pain, and other gastrointestinal complaints. Research done in 1979 found that peppermint oil capsules were very effective in treating irritable bowel syndrome. A study that was done using laboratory mice found that peppermint leaf extract produces a mild sedative effect.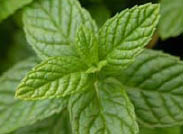 Additionally, animal studies have found that the azulene in peppermint oil contains anti-inflammatory properties.
The leaves and oil of the peppermint plant are used to provide antibacterial, anti-inflammatory, anti-spasmodic, aromatic, carminative, diaphoretic, rubefacient, and stimulant properties. The primary nutrients found in this herb are copper, iodine, inositol, iron, magnesium, niacin, potassium, silicon, sulfur, and vitamins A and C. Primarily, peppermint is extremely beneficial in dealing with appetite loss, colds, colic, digestion, fever, gas, headaches, heartburn, nausea, nerves, shock, bowel spasms, and vomiting.
Additionally, the herb is very helpful in treating chills, cholera, constipation, convulsions, stomach cramps, uterine cramps, depression, dizziness, flu, heart problems, insomnia, menstrual problems, morning sickness, motion sickness, neuralgia, shingles, mouth sores, stomach spasms, and sore throat. In order to obtain the best results when supplementing with this make sure the peppermint supplement is enteric coated. For more information on the many beneficial effects provided by pennyroyal, please feel free to consult a representative from your local health food store with questions.
Our Price: - $ 21.99 ...






Guarantee:
VitaNet® LLC Offers a 100% Satisfaction Guaranteed!