Royal Jelly Can Be An Anti-Aging Supplement And Much More
---



Date: February 27, 2010 11:45 AM
Author: Darrell Miller (dm@vitanetonline.com)
Subject: Royal Jelly As An Anti-Aging Supplement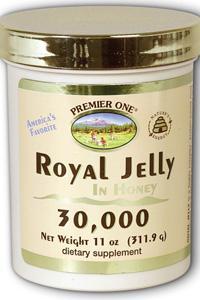 Royal jelly is considered to be the treasure of the beehive. It has the ability to promote longevity by helping to maintain healthy, beauty, and youth. This natural food is extremely potent and highly nutritional. Royal jelly is an incredibly rich, creamy, opalescent white liquid. It is produced by the worker bees specifically for the nourishment and cultivation of the queen bee. This fantastic material converts a common honeybee into a queen bee, extending the bee's lifetime from six weeks to five years. This substance is full of natural hormones and B-vitamins. Additionally, it contains a variety of seventeen amino acids. Eight of these amino acids are essential. Royal jelly is particularly rich in cystine, lysine, and arginine and is also composed of 16.1 percent aspartic acid, which is crucial for proper tissue growth and regeneration.
Gelatin is another component of royal jelly and one of the primary precursors of collagen. It is a potent anti-aging compound that helps to keep the youthful, while supporting the organs, glands, and muscular systems. It contains vital fatty acids, sugars, sterols, phosphorus compounds, and acetylcholine. Acetylcholine is essential in order to properly transmit nerve impulses. It is also important for the proper functioning of the endocrine system. An insufficient amount of acetylcholine often leads to a susceptibility to a variety of nerve disorders such as Alzheimer's disease, Parkinson's disease, and multiple sclerosis.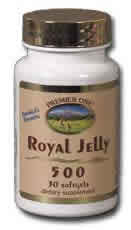 Royal jelly has many properties. Among which include: antibacterial, antiviral, antibiotic, tonic, nutritive, and anti-aging. It is very beneficial to the immune, cardiovascular, endocrine, integumentary, nervous, reproductive, cellular, skeletal, hepatic, and respiratory systems.
Although aging is inevitable, the process can be slowed significantly with supplements. Researchers in Argentina have been working to document the ability of royal jelly to both slow down tissue deterioration and even reverse it. For example, the story of Noel Johnson should be noted, as he experienced of rebirth of health at age eighty. In 1964, at age sixty-five he was refused life insurance because of a weak and damaged heart. At this point he was also cautioned to restrict his physical activity in order to prevent death. In 1989, at age ninety, Johnson discussed the book he wrote, The Living Proof… I Have Found the Fountain of Youth, which claims that his use of bee products, along with a solid nutritional program, is responsible for changing his life. Despite the additional exercise and diet changes, Johnson attributes most of his vitality to the bee products he used. He claims that he discovered bee's gift at age seventy, as the foods restored his manhood, brought him to full vigor and sexual potency, and continue to nourish every cell in his body. Johnson claims to be improving in every way without spending any money on medicine.
Royal jelly has been found to help with many conditions. Some of these include menopause, impotence, infertility, chronic fatigue, skin blemishes, wrinkles, immune system problems, viral and bacterial infections, endocrine disorders, hormonal balance, cardiovascular disease, weight control, inflammation, liver ailments, cancer, arthritis, memory, depression, Parkinson's disease, diabetes, asthma, and mental exhaustion.
In order to obtain the best results when using this, or any bee product, it is important to consult your health care provider before beginning any regimen. For more information on the many beneficial effects provided by royal jelly, please feel free to consult a representative from your local health food store with questions. Always buy Name brands like Premier One Royal Jelly to ensure quality and purity of the product you purchase.
~video~
Guarantee:
VitaNet® LLC Offers a 100% Satisfaction Guaranteed!