Improve colon function with natural herbal laxative Cascara Sagrada
---



Date: August 25, 2010 02:18 PM
Author: Darrell Miller (dm@vitanetonline.com)
Subject: Cascara sagrada can help with constipation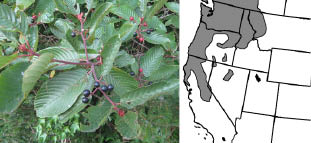 Cascara sagrada and Constipation
Cascara Sagrada was introduced to the Spanish explorers by Native Americans when they complained of problems with constipation. The Spanish then gave this herb its name, cascara sagrada, which means sacred bark and used it as a natural laxative. The Spanish explorers brought the herb back with them to Spain when they returned. In 1877, this herb was admitted to the U.S. Pharmacopoeia and is still included as an official medicine to this day.
Cascara sagrada is believed to be one of the best herbs for treatment of chronic constipation. This is because it enhances the peristaltic action that takes place in the intestines and increases the secretions of the stomach, liver, and pancreas. This herb is also helpful in relieving hemorrhoids because of its nonirritating nature and softening action on the stool.
Cascara sagrada is found in many over-the-counter preparations that are used for the intention of relieving constipation. This is because it acts on the large intestine to increase the muscular activity of the colon. The anthraquinones that are found in cascara sagrada are believed to encourage intestinal contraction. This herb is used to restore natural bowel movement without griping and to restore tone to the bowel.
Additionally, an element in cascara sagrada is known as quinine emodin. This element is being studied for its usefulness in treating lymphocytic leukemia and Walker carcinosarcoma tumor

system. More research is needed before it will be recommended for treatment, but so far, the findings have been promising.
Cascara sagrada can be used often, as it is not considered to be addictive. Preparations should be made from bark that has been aged for a least a year before use. This must be done because fresh bark is poisonous and can cause nausea and extreme griping on the intestinal system. Cascara sagrada can be found in various forms including capsules, liquid extracts, and dried bark. Although it tastes bitter, the dried bark can be made into a tea. A typical dosage of cascara is a 300 mg capsule which is taken in the early evening to stimulate a bowel movement in the morning. The laxative effect usually occurs 6 to 12 hours after cascara is taken. Products containing cascara sagrada should not be used for more than eight or ten days. Those women who are pregnant and nursing should avoid this herb, as well as people with intestinal blockage, undiagnosed stomach pain, or symptoms that may indicate appendicitis. People with diarrhea, inflammatory bowel disease, or intestinal ulcers should not take this herb.
Additionally, children younger than twelve with constipation should not be treated with cascara sagrada.
The bark of cascara sagrada should be used to provide alterative, antineoplastic, antispasmodic, hepatic, lithotriptic, and purgative properties. The primary nutrients found in this herb are calcium, chlorine, iron, magnesium, manganese, niacin, phosphorus, potassium, selenium, silicon, sodium, and vitamins A, B-complex, and C. Primarily, cascara sagrada is beneficial in dealing with colon problems, constipation, gallbladder problems, gallstones, gas, gastric disorders, hemorrhoids, intestinal problems, liver disorders, and worms. Additionally, this herb is extremely helpful in treating colitis, coughs, croup, dyspepsia, gout, indigestion, insomnia, jaundice, excessive mucus, pituitary problems, and spleen ailments.
For more information on the many beneficial effects provided by cascara sagrada, please contact a representative from your local health food store. Always choose name brands of this wonderful herbal laxative to ensure quality and purity and gentleness of its properties on the intestinal tract.
Our Price: - $ 14.99 ...






Our Price: - $ 9.49 ...






Guarantee:
VitaNet® LLC Offers a 100% Satisfaction Guaranteed!