Bromelain Supplement - What Is Bromelain Good For?
---



Date: November 06, 2010 10:32 AM
Author: Darrell Miller (dm@vitanetonline.com)
Subject: Bromelain Supplements why?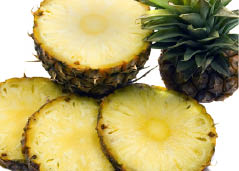 Bromelain enzyme may not be as familiar as other digestive supplements to most people but this helpful catalyst offers a wide range of benefits not only to the digestive system but also to other systems of the body.
Bromelain Enzyme Supplement
Bromelain enzyme is a proteolytic digestive catalyst that contains sulfur. From the word "proteolytic", this substance aids in the digestion of proteins especially when taken with meals. On the other hand, when taken without meals, it is deemed to act as an anti-inflammatory supplement. Ananas comosus or the pineapple plant is the best source of this beneficial enzyme. However, fresh pineapple extract does not contain doses high enough to have a medicinal effect. Hence, a preparation to meet the body's demand is produced. Bromelain supplements now come in the form of tablets and topical creams. They are now widely available and affordable to counterweigh the several uses it offers.
In the Digestive System, bromelain enzyme does not only help in digesting proteins but may also relieve gastric upset and heartburn especially when used together with other digestive enzymes like amylase, a catalyst responsbile for carbohydrate digestion, and lipase which is for the digestion of fats. Diarrhea conditions associated with deficiency in the proteolytic enzymes can also be alleviated with the use of this supplement.
In the Immune System, bromelain has been widely considered as an effective relief for pain and swelling caused by both injury and certain infections. Studies frequently show the bromelain's ability in facilitating the body to restore health more quickly. The mechanism is said to be a reduction of fibrin and leukotriene accumulation, thus regulating the inflammation process. Researchers have demonstrated evidences that a daily intake of 1,200 to 1,800 mg of bromelain may help alleviate painful inflammation just like in rheumatoid arthritis.
In the Cardiovascular System, bromelain supplement is theorized to play a role in the prevention of heart disease caused by atherosclerosis or thickening of the arterial wall due to plaque deposits. It slows down the clumping of platelets thus preventing a possible heart attack.

Bromelain May Also Relieve Pain
Lastly, bromelain may also relieve pain associated premenstrual syndrome and menstraul cramps. Studies reveal that they act as prostaglandin inhibitors. However, bromelain can also increase the bleeding during menstruation.
Bromelain supplement has no Recommended Dietary Allowance but doses of up to 1 gram taken 3 times a day showed no toxic effects. Experts also advise to take bromelain on an empty stomach supplemented with magnesium to increase the bromelain's effects.
Just like any other drug or food supplement, bromelain also has side effects, nonlife-threatening to be exact. It may have drug interactions such as increasing the absorption of some medications like antibiotics, chemotherapeutic drugs and specific antihypertensive agents. In addition, it may also bolster the effects of blood thinners such as warfarin (Coumadin), anti-inflammatory drugs and antiplatelet agents such as clopidogrel (Plavix). Since bromelain supplement can cause certain drug interactions, it is important to take this enzyme cautiously or under the supervision of a qualified health care provider.
To find quality bromelain supplements, look to your local or internet vitamin store.


Our Price: - $ 19.99 ...






Our Price: - $ 13.32 ...






Guarantee:
VitaNet® LLC Offers a 100% Satisfaction Guaranteed!