Did You Know That Turmeric Is More Than An Asian Spice?
---



Date: November 11, 2010 03:48 PM
Author: Darrell Miller (dm@vitanetonline.com)
Subject: Turmeric, Curcumin, And Good Health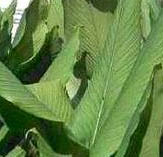 Turmeric and its history
Turmeric is not just an ancient Asian spice but also an effective traditional alternative medicine used worldwide. Turmeric is a spice that originates in India and has been long used in both Ayurvedic and Chinese traditional medicine. This spice comes from the herb Curcuma longa L. which is a member of the Curcuma botanical group, a part of the ginger family of herbs called Zingiberaceae. The root and rhizome (underground stem) of this plant is crushed and powdered into ground Turmeric. Ground Turmeric is used worldwide as a seasoning and the main ingredient in curry powders. Ground Turmeric is also the source of Curcumin, an extracted potent substance also used as alternative medicine nowadays.
Turmeric, because of its Curcumin content, has many health benefits to humans. Firstly, Turmeric has an anti-inflammatory property. Its active ingredient, Curcumin, has been proven to help reduce inflammation. Decade to decade, Turmeric has been used as an anti-inflammatory agent to treat inflammations of the skin and muscles. Experiments done by researchers also revealed that this herb has been effective in decreasing post-surgical inflammation. This important health benefit of Turmeric is considered to be a result of the herb's ability to slow down, if not to totally stop, Eicosanoid Biosynthesis, one of the processes the immune system undergoes during an inflammatory response.
Secondly, as a result of its anti-inflammatory characteristic, Turmeric also has an anti-arthritic property. It is widely used as an alternative medicine for rheumatoid arthritis and other autoimmune disorders. In addition, this herb also has a natural painkiller effect. Studies show that it has similar actions to the commonly used medications such as COX-2 inhibitor and Nonsteroidal Anti-inflammatory Drugs.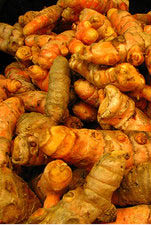 Thirdly, several studies have shown that Turmeric is also helpful in lowering the level of bad cholesterol in the blood known as the Low Density Lipoprotein or LDL and in increasing the body's good cholesterol, High Density Lipoprotein or HDL. An increased level of LDL promotes cholesterol plaque deposits to the walls of blood vessels, most commonly in the arteries of heart. These plaques narrow the arterial diameter hence resulting to high blood pressure and even circulation blockage. An arterial block may cause poor circulation and oxygenation to heart muscles leading to cardiac injury then infarction. This is oftentimes the cause of heart attacks. It has also been discovered that Turmeric can promote excretion of dietary fats. Thus, controlling the intestinal uptake of fats, especially cholesterol.
Turmeric - Powerful Antioxidant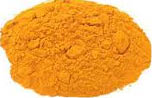 Lastly, Turmeric is also widely used because of its anti-oxidant property. Studies demonstrate that Turmeric is effective in eliminating free radicals in the body. These free radicals are harmful. It may cause cell mutations which can lead to tumor formation and, worse, cancer.
This herbal plant can be prepared in the household by pounding and pressing its roots to be able to extract the juice out. It is then mixed with water and may be used topically or by nasal inhalation. The root can also be lightly cooked and eaten. Turmeric is also helpful in earaches and to clear clogged sinuses thus easing breathing. This herb can also be purchased in bulk powder or standardized forms to ensure its beneficial properties are intact.

Guarantee:
VitaNet® LLC Offers a 100% Satisfaction Guaranteed!