Did You Know Lecithin is More than a Brain Food
---



Date: February 15, 2011 04:16 PM
Author: Darrell Miller (dm@vitanetonline.com)
Subject: Did You Know Lecithin is More than a Brain Food

Lecithin, first discovered as the yellow substance in egg yolk, is now associated with a wide array of health benefits. It is in fact made up of a number of naturally occurring substances that all play an important role in promoting overall health at the right amounts. Today lecithin is made available as over-the-counter supplements and utilized for many different purposes in the food industry.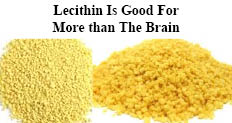 Lowers Cholesterol
Lecithin has been proven to reduce cholesterol serum levels. For one, it has a direct effect on the digestion of triglycerides and cholesterol from the foods we eat, blocking the pathway that breaks down fats into smaller particles and their consequent absorption by intestinal walls. Also, lecithin has been observed to attract free fatty acids in the bloodstream and move them away from arterial walls. More importantly, it inhibits the release of bad cholesterol and instead raises good cholesterol levels.
Induces Weight Loss
There are dietary supplements that make use of lecithin to assist weight loss. Since the amount of lecithin present in our diet contributes to the ability of the intestinal walls to break down fats, notably cholesterol, it practically flushes away unwanted calories. Lecithin is a part of a class of compounds called lipids, and, as a lipid, it is readily utilized by the cells to burn fats and power cellular functions.
Supplies Energy
Phosphatidylcholine, a major constituent of lecithin, is in the employ of every cell in the body as a form of protection and in cellular communication. It is one of the compounds that make up the lipid bilayer of cell membranes. Unfortunately, our systems use up more lecithin as a dynamic source of energy than what we supply our body, and this explains why we become more susceptible to stress.
Protects the Liver
Lecithin has always shown to be one of the compounds that promote liver health, and has been in use against certain diseases of the liver such as cirrhosis. This compound is responsible for speeding up the metabolism of lipids in the liver, and produce them only when needed, thereby removing the hazards associated with the buildup of fatty tissues that interferes with the functions of the liver.
Helps during Pregnancy
Choline is one of the most important compounds during pregnancy. It is in itself an essential nutrient with established daily value, being required to support healthy body functions, and lecithin is its best known precursor. Intake of lecithin before getting pregnant is recommendable as choline must be produced at sufficient amounts prior to conception to ensure healthy fetal development.
Enhances Memory
Lecithin, being a precursor of choline, is involved in improving brain function. There are neuronal processes that rely entirely on choline, whose absence in the nervous system results in decreased activity of these processes. In addition, it has long been postulated that the functional decline tied to aging is due to the depleting levels of choline in the body. Hence, it is prudent to replenish our choline reserves by eating foods rich in lecithin.
Guarantee:
VitaNet® LLC Offers a 100% Satisfaction Guaranteed!