Reduce Inflammation, Nasal Drip, Respiratory Infection W/ Natural Andrographis
---



Date: August 11, 2011 01:02 PM
Author: Darrell Miller (dm@vitanetonline.com)
Subject: Reduce Inflammation, Nasal Drip, And Respiratory Infection With Natural Andrographis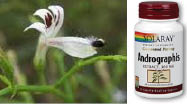 Can Andrographis Help Improve Respiratory Health?
Andrographis is an herb noted for its health effects on the respiratory tract. It has been recognized as an effective treatment for the common cold in several countries all over the world, though it is most popular in China and India. Practitioners of natural remedies have ascribed a number of medicinal properties to andrographolide, which is the major phytochemical constituent of this herbaceous plant.
Andrographis paniculata is a plant species that belongs to the family of plants native to the tropical regions of the Old World. It is found in large concentrations in Southern Asia, but it is also cultivated in the Americas. It grows up to 40 inches in height. It prefers shady places that retain a fair amount of moisture, but survives in open spaces, such as hills, farms, roadsides, wastelands, and even coastlines.
Alleviates Nasal Secretions
Rhinitis is a medical term that refers to the irritation of the nasal cavity. Otherwise known as stuffy nose, it often leads to uncontrolled nasal dripping. Excessive release of mucus characteristic of a congested nose or runny nose stems from the irritation caused by infections, or allergens in the case of allergic rhinitis. It is one of the most visible symptoms of hay fever and cold infections.
Andrographis has been utilized as an all natural remedy for excessive nasal secretions for centuries. In particular, it is an essential ingredient in herbal preparations associated with Ayurvedic Medicine and Traditional Chinese Medicine. Recent studies have shown that it produces a drying effect on the nose of participants suffering from colds after they took extracts of the plants in less than a week's time.
Inhibits Inflammatory Mediators
Nasal dripping is tied to inflammatory responses in the employ of the immune system. Pathogenic microbes, such as viruses, bacteria, or even allergens, trigger immune responses that make use of endogenous chemicals known as inflammatory mediators. The process of inflammation attempts to contain infection, alerting immune cells. Production of mucus increases in the process.
The bitter taste of andrographis has been attributed to an organic compound called andrographolide, which is a natural diterpenoid now under investigation due to its pharmacological activity in vitro. It has been reported to exhibit anti-inflammatory action that even works as an antipyretic. It suppresses mediators of inflammation in the respiratory tract and allays fever tied to flu.
Combats Respiratory Infections
Modern herbalists have dubbed andrographis an immune booster. Indeed laboratory studies have documented that the organic compounds found in this plant prompt immune responses and modulate the disease fighting capacity of immune cells. Due to promising results of preliminary studies, it has often been linked to the amelioration of infections of the upper respiratory tract.
Andrographis is now becoming increasingly popular as an alternative treatment for sinusitis, cough, colds, and even flu. While it has been in use throughout the centuries, its efficacy remains under scrutiny. On the other hand, it is generally considered safe, and no side effects have been noted so far.
Grab some andrographis today and feel the difference!
Our Price: - $ 12.99 ...






Our Price: - $ 9.35 ...






Guarantee:
VitaNet® LLC Offers a 100% Satisfaction Guaranteed!