UPC: 878941000317
# ARPL02
ActivJoint™ Platinum provides complete and effective nutritional support to help you maintain an active lifestyle.† It's formulated with the highest quality glucosamine, chondroitin, MSM, herbs, enzymes and nutrients that are then activated with Ionic Trace Minerals.†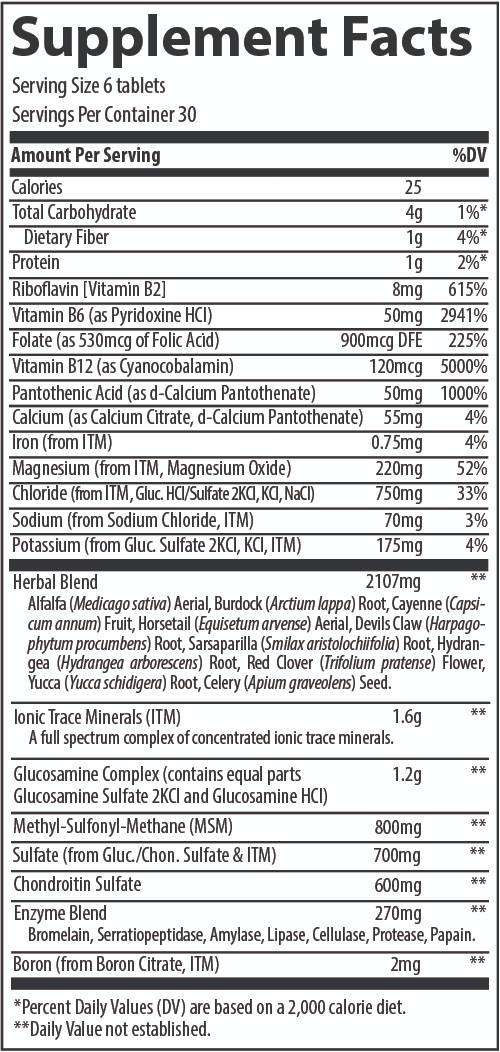 INGREDIENTS: Microcrystalline cellulose, stearic acid, croscarmellose sodium, magnesium stearate, silicon dioxide, hypromellose, calcium stearate, Carbowax™.
ALLERGEN INFO: CONTAINS SHELLFISH (SHRIMP). GLUTEN FREE
SUGGESTED USE
Take 3-6 tablets daily, taken with food. Take 6 tablets for optimum benefits. Use 2-4 tablets daily for maintenance or for use with our other quality active lifestyle support supplements like our ActivJoint™ Powder
30 servings per container.
Joint pain and stiffness is an unfortunate side effect of getting older. But many times that pain and stiffness can decrease your ability to participate in activities you once enjoyed. But this doesn't have to be.
ActivJoint™ Platinum is the most complete dietary supplement designed to support healthy bone, joint, and ligament mobility so you can take your life back!†
We took our best-selling, clinically tested vegan ActivJoint™ bone and joint formula and made it the most complete bone and joint supplement on the market by adding 1200 mg of Glucosamine, 600 mg of Chondroitin, and 800 mg of MSM to help build up your joints.† We also added an Enzyme Complex, including Bromelain and Serrapeptase to aid in the absorption of nutrients.†
Also included is our original vegetarian Herbal Blend which features Yucca, Devil's Claw, Burdock Root and many other herbs to help maintain joint function.†
As for minerals, we've added Calcium, Magnesium and ConcenTrace® ionic trace minerals that include over 72 trace minerals and elements to activate all the nutrients in our formula. So don't take joint pain and stiffness sitting down. Reach for ActivJoint™ Platinum and take your life back.