*MSRP:

$8.95

Our Price:

$6.27

Description:
UPC: 819193020777
# HU0087
It is estimated that over 40% of the US population has low vitamin D levels. Unfortunately, as we age, our ability to convert dietary vitamin D into its active form diminishes, as does our ability to synthesize vitamin D from sunshine, reducing our body's vitamin D levels further.
Therefore, people 50 years old and above are at an increased risk of developing vitamin D deficiency.
A simple blood test can determine your vitamin D level (a result of 20 ng/mL to 50ng/mL is considered adequate for healthy people) and can help you select the right supplement dosage along with a discussion with your doctor. Health Thru Nutrition offers pure vitamin D-3, as cholecalciferol, in three different strengths, 2000IU, 5000IU, and 10,000IU, the most potent available.
Health Thru Nutrition manufactures its Vitamin D-3 under strict cGMP standards in the USA. All strengths are non-GMO, contain no artificial sweeteners or preservatives, are free of soy and gluten, and contain no major allergens.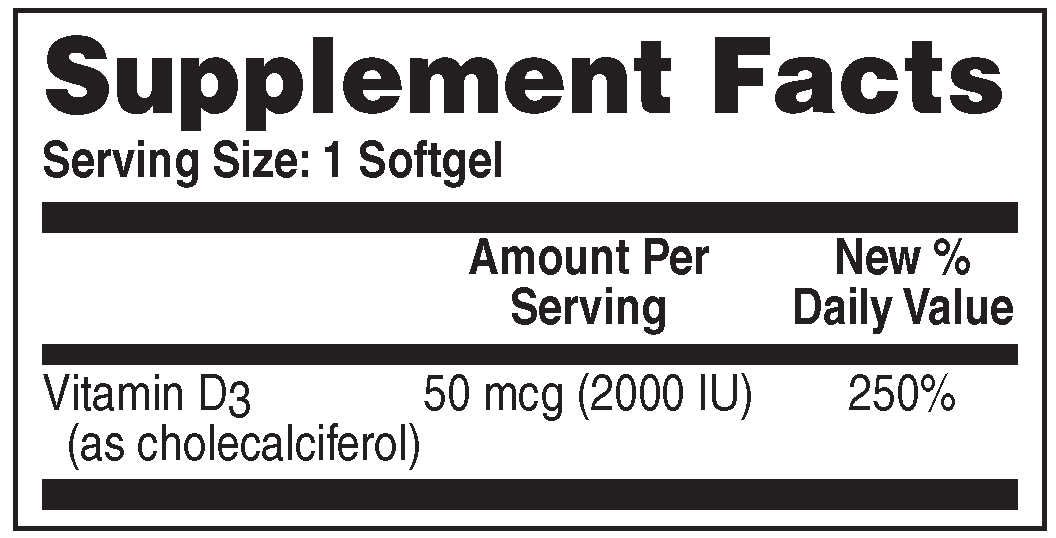 Other Ingredients: Organic olive oil, kosher beef gelatin, vegetable glycerin, purified water.
Directions: Adults: Take one (1) softgel daily as a dietary supplement or as directed by your healthcare professional.
Free of: milk, egg, fish, shellfish, tree nuts, wheat, peanuts, soybeans and corn. NON-GMO, GLUTEN FREE, SOY FREE
Caution: Before using any dietary supplement, pregnant or lactating women should consult with a physician or health professional.
Manufactured in a cGMP Certified U.S.A. Facility.