Prevent Osteoporosis With a Potassium Supplement
---



Date: January 19, 2011 01:51 PM
Author: Darrell Miller (dm@vitanetonline.com)
Subject: Potassium And Osteoporosis - What They Have In Common!

Potassium is a mineral, in the same column of the Periodic Table as sodium that it resembles. The various solutions of your body are very carefully controlled in the concentration of the electrolytes it contains, and potassium helps to maintain the electrolytic balance in your body cells.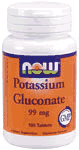 To take an example, menopausal women can tend to secrete calcium and end up suffering osteoporosis, as can older people that are not careful about their diet. That is because most people tend to use too much salt in their diet - salt is sodium chloride, and an excess of sodium over its ideal proportion to potassium can cause loss of certain electrolytes, of which calcium is one.
Simply by increasing the amount of potassium in your diet, you can prevent or even reverse this trend. Potassium and magnesium both help calcium to be incorporated into your bone structure. Vitamin D also helps, but sodium tends to force calcium out. So by maintaining a good level of potassium in your diet you can help to prevent this condition that leads to many problems as you age.
Guarantee:
VitaNet® LLC Offers a 100% Satisfaction Guaranteed!