Digestive Enzymes, Acid Reflux, Cholesterol, Heartburn, IBS, Diabetes, BP And
---



Date: June 13, 2011 02:24 PM
Author: Darrell Miller (dm@vitanetonline.com)
Subject: Digestive Enzymes, Acid Reflux, Cholesterol, Heartburn, IBS, Diabetes, And Blood Pressure

Digestive Enzymes - Can Enzymes Help Me Feel Better?
Irregular bowel syndrome (IBS) is a chronic disease many people suffer from and basically causes your bowels to move irregularly leaving you bloated and in pain. This is mainly due to the average diet of today (too little fiber) but is also caused by genetic reasons and an unhealthy diet. A great way to treat this problem healthily is by taking digestive enzymes supplements.
The first question we should probably ask is what are digestive enzymes? Shortly put – digestive enzymes are live proteins present in all living organisms. Digestive enzymes are secreted along your digestive track and it extracts nutrients from the food and your body passes the rest as waste. The reason why some foods are hard on your digestive system is because we eat most of our food cooked and this process of cooking kills all the live enzymes in the food, leaving it to your digestive system to digest the whole portion, whilst uncooked food breaks 40% – 60% down itself.
Your body isn't designed to digest mostly cooked food, and this causes almost every digestive problem you might have. A great way to get rid of this problem is drinking digestive enzymes supplements. Before your food moves from your stomach to the next process of digesting the extra digestive enzymes can help to completely digest all the food as so making it much easier on your body to break down.
Making sure your body has enough digestive enzymes is crucial – not only for your digestive health. If your body produces less digestive enzymes than it uses, it may cause damage to your pancreas because you're overworking it. Remember that it is the pancreas that produces your body's digestive enzymes. Eventually damage to your pancreas will also lower your immune system and also lower metabolic enzymes and having a constantly depleted level of digestive enzymes will eventually catch up with you. So get yourself some supplements – even if you are a vegetarian Yogi!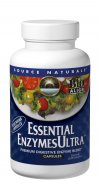 Not having enough digestive enzymes, your body can be in deathly dangers. Some of the problems due to a lack of enzymes include acid reflux, high cholesterol, heartburn, IBS, diabetes, high blood pressure and circulatory problems. If you are prone to any of these problems you should consider talking to your doctor about taking some digestive enzymes, they are readily available, not too expensive and they may lengthen your life another decade or two.
To avoid any of these health problems you should look after your body because, evidently, it will make you feel better for longer. Exercise regularly, eat as much raw food as possible, and try to drink digestive enzymes supplements when you eat cooked food and to visit your doctor for a check-up once a year. With the right balance, diet and digestive enzymes you can go a long way to assure yourself a long, healthy life.
Guarantee:
VitaNet® LLC Offers a 100% Satisfaction Guaranteed!