Can Nettle Leaves Help with Allergies?
---



Date: July 12, 2011 12:48 PM
Author: Darrell Miller (dm@vitanetonline.com)
Subject: Can Nettle Leaves Help with Allergies?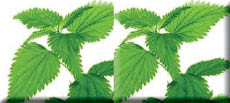 Nettle And Allergies
Nettle leaf is a traditional medication for excessive inflammation in many European countries. It is valued for its hollow hairs called trichomes, which work as a counter-irritant. In addition to its putative effect on allergic rhinitis or hay fever, it remains extensively used as a treatment for joint pain, muscle spasms, back ache, osteoarthritis, atopic eczema, gout, and other disorders induced by inflammation.
Urtica dioica is the plant species referred to as the common nettle or stinging nettle, from which nettle leaf is harvested from in general. It is an herbaceous shrub that grows up to 2 meters in height. It is botanically noted for its trichomes, which inject list of inflammatory agents into the skin upon contact. In alternative medicine, these organic compounds are processed to combat excessive inflammation.
Nettles enjoy a wide distribution in almost all continents, with the exception of Antarctica and South America. In particular, stinging nettle has been successfully naturalized in all regions outside the Frigid Zone. It prefers soils that retain moisture and receive high rainfall. Hence, it thrives well in tropical and subtropical regions. In temperate zones, it is often found in the wild and abandoned settlements.
Nettle leaf has had a centuries-old association with folk medicine of England, Germany, Sweden, and much of Northern Europe. It is mentioned in the Old English poem called Nine Herbs Charm, which describes the common nettle as a treatment for poison and infection. In Germany, herbal preparations that contain nettle extracts are among the leading adjuvant remedies for allergic rhinitis and joint pain.
Hypersensitivity disorder of the immune system in the form of allergies is a reaction to otherwise harmless substances called allergens. These reactions include eczema, hives, hay fever, asthma, anaphylaxis, insect bites, and even systemic allergic reactions. Modern herbalists have long employed nettle leaf for the prevention, amelioration, and cure of hay fever and related allergic reactions.
The hollow stinging hairs of nettle leaf are a natural source of organic compounds that are similar to the chemicals released by the body during allergic reactions, such as histamine and acetylcholine. It produces optimum results when applied directly, as is the case with topical creams and alcoholic tinctures. Allergies subside when these compounds are introduced to local tissues underneath the skin.
Extracts of nettle leaf contain phytochemicals that display anti-inflammatory activities when ingested. The exact mechanism of action is still under investigation. Based on initial results, researchers are positive that nettle leaf exerts an inhibitory effect on pro-inflammatory cell-signaling protein molecules known as cytokines, which are directly involved in hypersensitivity disorder, especially hay fever.
More importantly, nettle leaf has been observed to inhibit the transcription of tumor necrosis factor alpha, which is responsible for a diverse variety of inflammatory responses of cells and tissues. As a results, it downregulates the production of cytokines and interleukins incriminated in excessive inflammation during joint pain, back ache, food allergies, asthma attacks, and allergic rhinitis.
Guarantee:
VitaNet® LLC Offers a 100% Satisfaction Guaranteed!