What is Wild Yam Root And How Does It Help PMS And More?
---



Date: July 25, 2011 02:44 PM
Author: Darrell Miller (dm@vitanetonline.com)
Subject: What is Wild Yam Root And How Does It Help PMS And More?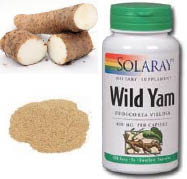 Wild Yam And Your Health
Wild yam root refers to a group of tubers related to the common yam. While the common yam is consumed as a vegetable, wild yam root is known for its medicinal properties. It has been linked to many studies in the past few decades. It is a source of the plant steroid diosgenin, which is converted to progesterone in the laboratory. It has also shown to reduce cholesterol and triglyceride levels.
Dioscorea villosa is the plant species often referred to as wild yam root, inasmuch as most products and supplements that are marketed as wild yam obtain extracts from this plant. Its positive effects on health are attributed to steroid-like organic compounds called saponins. Nevertheless, these saponins and other active ingredients of the root can also be derived in other closely related wild yam species.
Rebalances Female Hormones
Wild yam root is one of the most recognized plant species in the nutraceutical industry, especially in niches concerning the alleviation of hot flashes, night sweats, and other vasomotor symptoms. It is rich in compounds that precursors to human sex hormones, such as estrogen and progesterone.
Whether modified or not, the compounds extracted from wild yam root display estrogenic activities inside the female body, and they can be administered through the mouth or skin. They work normalize fluctuating levels of hormones, as is the case during menopause.
Counteracts Pain Chemicals
The phytochemical content of wild yam room is anti-inflammatory in nature. Not surprisingly, it has been used in the treatment of inflammation-induced disorders, such as rheumatoid arthritis, renal colic, ulcerative colitis, muscle cramps, abdominal pain, and inflammatory bowel disease.
Wild yam root suppresses the releases of endogenous compounds responsible for the perception of pain in certain body parts. In addition, it also inhibits the excessive productions of immune cells that trigger hypersensitivity and immune disorders, such as bronchial asthma and allergic rhinitis.
Boosts Bone Mineral Density
Extracts of wild yam root are commercially touted to prevent bone loss characteristic of osteoporosis. Since the human bones are the primary reserves of calcium and other minerals, they undergo a continuous cycle of demineralization to meet the mineral demands of other parts of the body.
The process of demineralization that alters bone density throughout life is called bone resorption. It is influenced by other factors, such as sedentary lifestyle and mineral deficiencies. With a balanced diet, regular consumption of wild yam root has been reported to easily reverse bone loss.
Reduces Overall Lipid Levels
There is a growing body of literature devoted to the effects of wild yam root on overall lipid levels in the blood. Wild yam root supplements are believed to lower utilization of triglycerides in the liver, limiting the releases of cholesterol, low-density lipoproteins, and free fatty acids into the bloodstream.
In addition, regular intake of wild yam root extracts appears to interfere with the breakdown of fats into easily digestible fatty acids and their subsequent absorption in the small intestines. This results in lower fat intake and healthier levels of cholesterol.
What is stopping you from trying it?
Our Price: - $ 9.49 ...






Our Price: - $ 12.75 ...






Our Price: - $ 10.36 ...






Guarantee:
VitaNet® LLC Offers a 100% Satisfaction Guaranteed!