What Does Celery Seed Extract Do for the Body?
---



Date: July 26, 2011 01:29 PM
Author: Darrell Miller (dm@vitanetonline.com)
Subject: What Does Celery Seed Extract Do for the Body?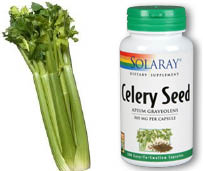 Celery seed extract is obtained from the fruits of celery. Powdered celery seeds are historically noted as a natural analgesic, and have been in use as a pain reliever throughout the ages. Modern science has found out that celery seeds are a good source of vitamins and minerals as well as phytochemicals that display pharmacological activity. In addition, it exhibits diuretic and hepatoprotective properties.
Suppresses Pain Chemicals
Traditionally, the seeds are picked from the flowers, powdered, and made into tinctures. Herbalists have long prescribed celery seed extract for the treatment of rheumatism. Several historical sources cited that its use provides relief to sufferers of joint pain and muscle spasms. Laboratory studies have shown that it naturally contains organic compounds capable of blocking the release of pain chemicals.
Alleviates Skin Disorders
Psoralen refers to a group of chemical compounds that increase ultraviolet absorbance. As such, it is a major component of PUVA, a form of therapeutic remedy in use today. This therapy has been reported to effectively cure medical conditions of the skin, such as psoriasis, eczema, and vitiligo. Celery seed extract is a source of bergapten, a type of psoralen that has been utilized to treat psoriasis in particular.
Normalizes Blood Pressure
People suffering from hypertension are likely to benefit from celery seed extract. As the subject of much research in recent years, celery seeds have been observed to lower high blood pressure and bring about normal blood flow. While its exact mechanisms of action remain under investigation, initial studies yielded very desirable results, spurring more researchers to look into its medicinal potential.
Promotes Liver Function
Many food and drug products are precursors to metabolites that inflict direct damage to liver cells. The liver as an organ becomes increasingly ineffective in containing the damage as we age. There is a growing body of scientific literature devoted to the hepatoprotective properties of celery seed extract, which raises the capacity of the liver to defend against harmful metabolites and promote liver function.
Reduces High Cholesterol
The phytochemical content of celery seed extract is especially good for the cardiovascular system. In addition to its effects on blood pressure, it appears to alter the quality of lipids in the blood. It is now posited that it interferes with the utilization of fatty acids in the synthesis of cholesterol, lipoproteins, and triglycerides. By so doing, it lowers cholesterol in the blood and prevents cardiovascular diseases.
Counters Oxidative Stress
Celery seed extract contains bioflavonoids, which are a class of polyphenolic phytochemicals. These compounds have been extensively studied in the past few decades due to their antioxidant activity. Regular consumptions of foods high in polyphenols have been documented to counter radical damage during oxidative stress, protect body tissues from disease activity, and promote cellular longevity.
Guarantee:
VitaNet® LLC Offers a 100% Satisfaction Guaranteed!