How Does Prickly Pear Leaf Help with Blood Sugar Control?
---



Date: August 02, 2011 02:02 PM
Author: Darrell Miller (dm@vitanetonline.com)
Subject: How Does Prickly Pear Leaf Help with Blood Sugar Control?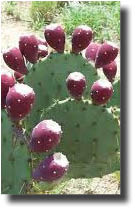 Prickly pear leaf is obtained from a group of cacti known for their positive effect on blood sugar. It is an important source of food and medication for Native Americans since prehistory. It contains unique compounds that display potent antioxidant activity. Studies have shown that its phytochemical content displays potential in the management of blood sugar and the treatment of type 2 diabetes mellitus.
Also known as nopales in its place of origin, all plant species referred to as prickly pear belong to the genus Opuntia. This genus comprises more than 200 species, but only a few are noted for their culinary uses. In Mexico and most of Latin America, it is consumed as a vegetable in general. The juice extracted from the prickly pear leaf is utilized in different niches of many industries. In food and drug industries, it is highly valued for its alkaloids and polyphenols that exhibit bioactive properties.
Many health problems recorded in the past few decades have been linked to uncontrolled blood sugar levels. Complex carbohydrates present in the human diet are broken down into simple sugars. In particular, glucose refers to the sugar that enters the systemic circulation. Glucose takes on a central role at the cellular level. It fuels the physiological functions of all cells and tissues, including the brain and the heart. That being said, diets high in simple sugars have been tied to elevated blood sugar.
Researchers and medical professionals have noted several factors that lead to metabolic disorders. Genetic abnormalities are something we don't have control of. On the other hand, lifestyle factors are quite the opposite. It has been reported that sedentary lifestyle and food choices play a major part in the development of illnesses related to glucose metabolism. Experts are convinced that some foods are detrimental to health, but there are sources of nutrition that help maintain healthy glucose levels.
Prickly pear leaf belongs to the group of foods that are good for blood sugar. Glycemic index measures how carbohydrates present in our diet influence blood sugar concentration. Simple sugars are always considered unhealthy forms of carbohydrates in that all of them possess a high glycemic index, which means glucose is released into the bloodstream at a very rapid rate. Foods that are easily digested to simple sugars, such as white bread and sweetened beverages, affect blood sugar in the same manner. Organic compounds that occur naturally in prickly pear leaf have a twofold effect. First, it helps lower the glycemic index of carbohydrates in our diet, and thus promotes a gradual release of glucose into the bloodstream. Second, it improves the hormone activity of insulin and fights its functional decline that results in insulin resistance, a common medical condition that precedes type 2 diabetes mellitus.
Grab some prickly pear leaf and take control of your life.
Our Price: - $ 12.99 ...






Guarantee:
VitaNet® LLC Offers a 100% Satisfaction Guaranteed!