Can Royal Jelly boost Metabolism?
---



Date: September 21, 2011 12:08 PM
Author: Darrell Miller (dm@vitanetonline.com)
Subject: Can Royal Jelly boost Metabolism?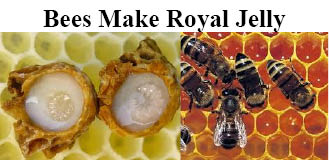 Overview
The metabolism is becoming more and more well known in any community all across America as something to look at when we are talking about health and wellness as this is the source of all calorie burning and at the end of the day will help you lose weight. This is, in so many ways the bottom line, losing weight will make you and keep you healthy. In these times of a fast paced life where anyone and everyone is so busy to even worry about how much calories they eat versus how much they need, a need for alternative solutions aside from just working out and making sure that more calories are burnt than eaten is needed and the scientific community acknowledges that need as proven by the tons of research done regarding weight loss and embraced by the manufacturers as they are more than willing to provide us with what we need. So through all these studies, the logic of looking at the metabolism and how to boost it all seems natural and this is why.
Metabolism
The word metabolism is taken from the greek language and basically means change or transformation. In simple terms metabolism is defined as the amount of energy or calories your body burns at a given period of time. Whatever we are doing, no matter if we are active or at rest we are burning energy and if compared to a car, it's like burning fuel and the car can be turned off but us on the other hand could not. Even when sleeping we are still essentially burning up fuel, just the very fact our brain still works and we are breathing while we are asleep is already a sign that we are burning energy.
Now where it will interest us in terms of energy and overall strength is that metabolism is based on a person's body composition and fat tends to need less energy to maintain itself as it is not an active tissue compared to having lean muscle because it continually needs more and more calories to maintain itself therefore more muscle means faster metabolic rate. Now this is where we go back to the fact that we need help when it comes boosting metabolism aside from just increasing muscle, because that is so much harder than supplementing with something all natural like Royal Jelly.
Royal Jelly and Energy Boost
Royal jelly is an animal product and derived solely from honey bees secretions. Its main function in terms of affecting the metabolism comes from its unique combination of compounds that will aid the enhancement of energy production in the cells. This combination is composed of amino acids, trace minerals, monosaccharides and enzymes that have bioactive properties. Among the vitamins that it will provide naturally is the vitamin b-complex. This family of vitamins is well known for its muscle tissue building and energy boosting attributes. Another way that researches feel is a way it increases energy is through promoting overall well being since royal jelly has been related to increased production of several neurotransmitters in the body like serotonin and dopamine.
Our Price: - $ 25.99 ...






Our Price: - $ 32.99 ...






Our Price: - $ 24.99 ...






Guarantee:
VitaNet® LLC Offers a 100% Satisfaction Guaranteed!