How Does Borage Oil Boost Your Health?
---



Date: October 06, 2011 12:05 PM
Author: Darrell Miller (dm@vitanetonline.com)
Subject: How Does Borage Oil Boost Your Health?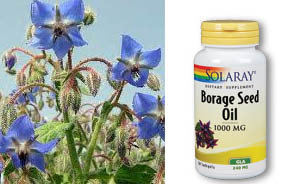 Borage Seed Oil
Borage, also known as starflower, is a medicinal herb that is native in Syria. The plant could approximately grow up to two to three feet in height having a hairy appearance all over its leaves and stems. The leaves of the plant are about half feet in length. Its flowers resemble five narrow and triangular petals that are blue in color. However, there are few instances that borage flowers are pink in color. One distinct characteristic of the borage plant is that it follows an indeterminate growth habit that could lead to a fruitful spreading. In places where climate is mild and good, the plant grows all year round.
In ancient years, the plant was used as a flavoring for wines which ancient Celtic warriors drink before engaging themselves into battle. It has been a tradition because they believe that the wine could boost both their strength, and courage. As time pass by, people discover new uses of borage leaves and flowers. During the middle ages, the people utilized the plant as a relief for melancholy. As a matter of fact, the renowned scholar named Pliny believed that the herb is very effectual in curing depression and boosting mood. During the 16th century, John Gerard was able to discover the herb's potential in making the heart healthier.
To add, borage is also utilized as a cure for bronchitis because of its soothing effect and capacity to lessen inflammation. Aside from that, borage is also noted for its capability to protect the mucous membranes of the mouth and throat as well as ensuring that the kidneys and adrenal glands are well functioning.
Borage is helpful in rejuvenating the body during recuperation from a disease. This herb is also useful for curing and correcting problems of in the digestive tract. Research would also show that the herb is effectual in increasing the quantity and quality of mother's milk.
The seed oil of borage contains liberal amounts of GLA which is highly beneficial for the human body. as a matter of fact, virgin borage oil contains vital components such as essential fatty acids, gamma-linolenic acid that will aid the body in times of stress.
There are a lot of preparations which will allow you to grasp the benefits of borage plant. And two of the most common is to use it as a vegetable or as a dried herb. People enjoy eating borage because it tastes like cucumber hence it is perfect for salads or as a garnish. Borage flower is also palatable. Its taste is similar to that of honey hence, it is also good to incorporate in desserts.
Among the many health benefits of borage leaves would include the following: purgative properties, blood purifier, diaphoretic, galactoagogue, and febrifuge. Vital nutrients such as potassium and calcium are also abundant in the herb. Because of these potent and vital components that the herb contains, various conditions can be corrected and prevented by borage just like inflammation of the eyes, excessive mucus, and a lot more.
You too should grab some borage oil to help improve your health and wellness.
Guarantee:
VitaNet® LLC Offers a 100% Satisfaction Guaranteed!