What Is The Difference Between Echinacea plants?
---



Date: December 18, 2011 08:26 PM
Author: Darrell Miller (dm@vitanetonline.com)
Subject: What Is The Difference Between Echinacea Angustifolia And Purpurea?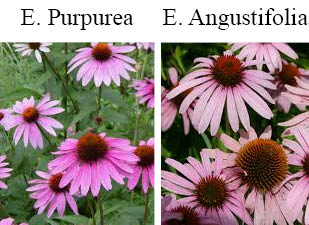 In the advent of natural medicine these days it is important for us to also know what we are dealing with. We may feel that it is better because it is all natural but still, just like prescription drugs, herbal medicine also has its attractiveness to those who want to take advantage of people's needs and momentary lapses of judgement. It does not mean that it is all natural it is good for the body right away, we also need to find out if it is exactly what we need or what we expect it to be. These herbal medicines and supplements in the market today come from plants and they are derived from it by various types of processing. As an example, we can look at Echinacea Angustifolia And Purpurea and what the differences are.
Echinacea
Both of them are species of this plant and we will only be able to understand more about those two if we are able to know their mother so to speak. It is a genus of herbaceous flowering plants and those two are part of the family and it has 7 other brothers and sisters so to speak because there are 9 species all in all including both the E Angustifolia and E. Purpurea. In modern natural medicine it has been known to have a lot of health benefits and the main one being its ability to support the immune system and help activate white blood cells to improve bodily functions. Other studies have learned that it has the ability to influence the increased production of interferon which is an essential part of the body's defensive response to any viral attacks that may cause infections.
Echinacea Angustifolia
This flowering plant is believed by some to be a miracle plant especially in the natural medicine world. It has shown to have amazing healing powers and this is what makes it a popular part of alternative medicine. Throughout US history it has been used by native Americans and frontiersmen as tonic and somewhat of a cure all treatment for various ailments and rightfully so because in modern science it has been proven to have amazing antiviral and antifungal properties which makes it an effective treatment against infections, certain diseases, common colds and flu. Other uses that it may have are being a treatment for inflammation, skin ulcers and upper respiratory infection which needs more studies to be done but early results seem promising.
Echinacea Purpurea
This specie is not as popular as the other but it also can be effective. It basically is a perennial with long stems and long lasting lavender coloured flowers. It also has the power to help the immune system be stronger and is commonly made as a tea. Studies have shown that it has a mild natural antibiotic characteristic and its extracts has been known to have the ability to increase white blood cell count as well however it is helpful to note that it is better in smaller doses than in large ones.
Both forms posses the same properties primarily immune boosting properties; either one is good to use to help strengthen the body in times of cold and flu and disease.
Our Price: - $ 15.99 ...






Our Price: - $ 19.99 ...






Our Price: - $ 13.99 ...






Guarantee:
VitaNet® LLC Offers a 100% Satisfaction Guaranteed!