Can Dietary Collagen Help the Skin and Joint Tissue?
---



Date: June 30, 2011 10:45 AM
Author: Darrell Miller (dm@vitanetonline.com)
Subject: Can Dietary Collagen Help the Skin and Joint Tissue?

Collagen and Your Health
Collagen is the most common form of protein in humans and other mammals. It is a major constituent of the extracellular matrix that provides structural support to animal cells from the outside. It displays great tensile properties, which is responsible for the strength and elasticity of the skin. Since it is a component of fibrous tissue, it is also found in ligaments and cartilages that make up joint tissue.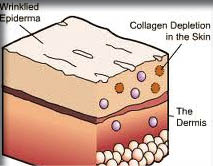 Dietary collagen has long been postulated to contribute to the biochemical composition of cells present in the skin and joints. Proponents of collagen supplements believe that dietary collagen is assimilated into the extracellular matrix and fibrous tissue. The scientific community has been doubtful about the efficacy of topical applications of collagen, but oral supplements have been promising in clinical trials.
Molecular collagen is composed of polymers of amino acids linked by peptide bands, which are too big at the cellular level to get absorbed through skin. On the other hand, intestinal absorption of dietary collagen remains a matter of controversy. That being said, nutraceutical companies have developed formulations of supplements that facilitate the best possible absorption rates and better bioavailability.
Tough bundles of collagen fibers comprise several polypeptide chains of fibrous structural proteins. All fibrous tissues have cells and extracellular matrix in between. High concentrations of collagen found in cartilages, ligaments, tendons, fascia, and even bones give these fibrous tissues tensile strength, the reason why the joints are capable of bearing a certain level of longitudinal stress without tearing apart.
Structural proteins make up the outer layer of the human skin and its appendages, such as the scalp, hair, and nails. The most important of these proteins are collagen, keratin, and elastin. Collagen fibers are responsible for the tensile properties of the skin. Keratin provides strength whereas elastin exerts an elastic effect. Collagen fibers affect the process of healing and its degradation leads to wrinkles.

Oral route of administration is believed to produce the health benefits linked to dietary collagen. While researchers have ruled out the health claims tied to collagen creams and lotions, they have reported encouraging results about dietary collagen. In fact, collagen supplements utilized in the management of rheumatoid arthritis and treatment of skin disorders have produced significantly positive outcomes.
One clinical trial that involved more than 200 participants diagnosed with rheumatoid arthritis point to the medicinal potential of collagen as an adjunct treatment for rheumatism and osteoarthritis. There was a noticeable decrease in joint pain, morning stiffness, and restrained mobility, which were noted as statistically significant. For this reason, supplementation of collagen has attracted more research.
Dietary collagen is now becoming increasingly visible in the nutraceutical industry in that sales have increased in the past few years. It has become the subject of numerous studies well underway, and as such developments in collagen supplementation are expected to produce formulations specialized for higher bioavailability. The good news is dietary collagen has not been linked to any adverse effects.
Get some collagen today and feel the difference it can make in your diet!
Our Price: - $ 43.80 ...






Our Price: - $ 102.20 ...






Our Price: - $ 19.25 ...






Guarantee:
VitaNet® LLC Offers a 100% Satisfaction Guaranteed!