Support the Adrenal Glands with Natural Vitamins and Feel the Difference
---



Date: October 05, 2011 03:50 PM
Author: Darrell Miller (dm@vitanetonline.com)
Subject: Support the Adrenal Glands with Natural Vitamins and Feel the Difference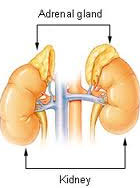 Your Adrenal Glands, Energy Levels, And How You feel
Our body is a very complex system that needs to be well taken care of through adequate intake of essential vitamins and minerals. Living healthy and right will allow you to reap and experience a better and more comfortable life in the future.
The adrenal glands are one of the most important glands in the body. It can be found on top of your kidneys; however, these two glands that you have in your body are actually different from one another. The center of the gland also known as the adrenaline manufactures epinephrine and is governed by the autonomic nervous system. These vital glands perform special functions that are very essential for life and health. Any alteration in condition would surely have corresponding effects in the body.
For us to keep our adrenal glands healthy, it is very necessary to consume foods that are rich with the following:
Vitamin B-Complex
B vitamins can help restore the adrenal glands when they are over worked from the stresses of life.
Vitamin C
It is inevitable that vitamin C is one of the most useful vitamins for the body because of its capacity to strengthen the immune system hence, keeping you away from the threats of diseases and body disequilibrium. To be more specific, vitamin C is very crucial for adrenal function. The highest concentrations of vitamin C can be found in the brain tissues and in the adrenal glands because the secretion of the vitamin is at its peak during stress. To help your immune function, it is advisable that you will take 500 to 1000 mg of the said vitamin per day.
Pantothenic acid
For optimal adrenal function, it is advisable to take about 100 to 150 mg of pantothenic acid daily because this vitamin B is noted to support and enhance adrenal function as well as correct adrenal deficiency.
Licorice
Has the innate capacity to prevent adrenal hormones breakdown therefore maintaining optimal levels. Another vital function of licorice is its power to cure indigestion.
Chromium
If you want to lessen the discomforts that you will feel during low blood sugar episodes, it is advisable for you to consume and take natural remedies and supplementation that are rich with chromium. The Adrenal Stress End has enough chromium content which is highly beneficial for the success of an enzymatic therapy. Experts would recommend taking one to two capsules per day for you to grasp its full effects.
To sum up everything, it is very important to take and engage in measures that could help us achieve optimum level of wellness because if not we will surely suffer from the consequences of being sick brought about by a disequilibrium in the body. Since we all know how important our adrenal glands are and the distinct function that it do for the body, we should do our very best to keep it healthy and well functioning. Vitamin C, licorice, Pantothenic acid, and chromium are just few of the important elements that you should provide your adrenal glands. Taking these would make you feel better and secured.
Guarantee:
VitaNet® LLC Offers a 100% Satisfaction Guaranteed!