Using Strontium as a Supplement For Bone Health
---



Date: June 02, 2011 03:10 PM
Author: Darrell Miller (dm@vitanetonline.com)
Subject: Using Strontium as a Supplement For Bone Health

Strontium is an essential ingredient in the formation of bone. It is not an element that many are familiar with, although Strontium 90 was a 1977 British band that first brought together Sting, Stewart Copeland and Andy Summers before they formed Police. That information, however, will not help your arthritis or osteoporosis. What will help is a supplement of strontium.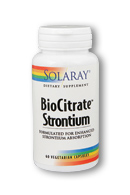 This element is an essential component of bone, even though it is present in very small quantities. What it does is to catalyze the fusion of calcium that forms bone structure, and if your bones are weak a supplement of strontium should generate fresh bone from the calcium in your diet and help reduce the potential for your limbs to fracture.
Along with strontium, you should take foods or supplements containing calcium, potassium magnesium and vitamin D. All of these are involved in building strong bones, although strontium is often the one that is missed.
Guarantee:
VitaNet® LLC Offers a 100% Satisfaction Guaranteed!