Fight Inflammation, Gastric Problems, and Arthritis with Boswellia
---



Date: June 14, 2011 11:49 AM
Author: Darrell Miller (dm@vitanetonline.com)
Subject: Fight Inflammation, Gastric Problems, and Arthritis with Boswellia

How Does Boswellia Fight Inflammation.
Boswellia fights inflammation through the action of a family of anti-inflammatory terpenes known as boswellic acids. Inflammation is a natural reaction of your immune system to tissue damage and infection, and is often associated with conditions such as arthritis, sports damage to bones and joints and bacterial infections caused by cuts and grazes. There are more serious inflammatory conditions of course, such as asthma, and boswellic acids act in the same way as non-steroidal anti-inflammatory drugs (NSAIDS) without their unwelcome side effects.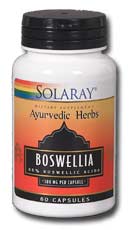 Among the causes of inflammation are inflammatory mediators such as leukotrienes, the biosynthesis of which is blocked by boswellia. Another is the 5-lipoxygenase enzyme, also known as LOX-5, and again, the terpenoid anti-inflammatory boswellic acids block this so that the causes of inflammation in the above conditions are severely restricted. Boswellia extract is a good supplement to take for those suffering any form of arthritis, joint pain or even asthma.
Using Boswellia to treat Arthritis
Boswellia can be used to treat both osteoarthritis and rheumatoid arthritis, although rheumatoid arthritis is not always easy to control. Arthritis is an inflammatory condition, in the case of osteoarthritis the inflammation being a natural response to joint damage and infection of the synovial fluid generally caused by wear and tear on the joint with aging, and also by sports injuries.
Rheumatoid arthritis is a form of immune disease caused by the body attacking its own joints, and while the terpenoid anti-oxidants known as boswellic acids can help to mediate the pain and other symptoms, it can do nothing to cure the condition.
If you are suffering pain through arthritis, and your joins are tender and swollen, a supplement consisting of an extract of boswellia or its terpenes can help to relieve these symptoms and to offer pain relief equivalent to that offered by synthetic NSAIDs such as aspirin and Ibuprofen.
Gastric Problems and Arthritis Pain? Perhaps Boswellia Can Help
Extracts and supplements based on the resins of the boswellia tree are commonly used to treat inflammatory conditions, and reduce the severe pain of rheumatoid and osteoarthritis, ease the discomfort of colitis and also help ease the symptoms of those suffering asthma. Each of these is an inflammatory condition that would otherwise have been treated using NSAIDs, or non-steroidal anti-inflammatory drugs.
NSAIDs have a number of side effects, being particularly unsuitable for those with ulcers or any other gastric problem. The terpenoids contained in boswellia extract an effective alternative to these drugs that many try to avoid taking. Long-term use of boswellia appears a lot safer than long-term use of NSAIDs, since it doesn't promote the severe gastric problems of these synthetic drugs, such as irritation of the stomach lining or even ulcers. If you already have ulcers or other gastric problems then NSAIDs area define no-no for you, and boswellia is the ideal substitute.
Grab some boswellia today and experience relief for your self!
Guarantee:
VitaNet® LLC Offers a 100% Satisfaction Guaranteed!