Celery Seed Is A Herbal Diuretic, Anti-inflammatory, Antioxidant, and More
---



Date: July 05, 2011 03:37 PM
Author: Darrell Miller (dm@vitanetonline.com)
Subject: Celery Seed Is A Herbal Diuretic, Antiinflammatory, Antioxidant, and Packed Full of Omegas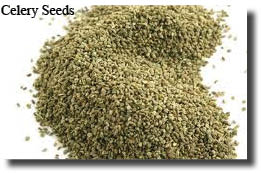 What Does Celery Seed Extract Do For The Body
Celery plant is a member of the parsley family. This plant grows abundantly in humid and salty soil mostly in countries such as India and France. The plant can stand up to two to three feet in height with segmented leaves. It bears fruits and small white flowers. The flowers typically bloom during June to July. The seeds are found on its flowers which are very little in brown to dark brown in color. The seeds have a pungent smell and are commonly employed as nutritional supplement as well as herbal medicine. Celery seed has low amount of calories which make it suitable as a diet food.
Aside from being a recognized vegetable playing an important role in the culinary and diet food world, celery seed also has many significant health benefits. These include:
1. Prevention of Cardiovascular Disease: Celery seeds promote a normal blood pressure and help decrease cholesterol in the bloodstream. Studies reveal that daily consumption of celery seed helps maintain your blood pressure within normal limits and facilitates in getting rid of unnecessary cholesterol in the body. Cholesterol may deposit into arterial walls which may cause obstruction with the blood flow thus increasing the risk of heart attack.
2. Diuretic: Almost a century ago, celery seeds have been commonly used as a diuretic. The active ingredients in celery improve urination thus promoting elimination of toxins out from the body. One of the most important contribution of celery seed as a diuretic is its effect on uric acid crystals deposited in the joints. Celery seeds can effectively clear out uric acid crystals in the joints thus preventing or relieving the person from gouty and rheumatoid arthritis.
3. Anti - inflammatory Property: Celery seed is said to have potent anti – inflammatory actions by decreasing swelling thus reducing pain. This is another reason why celery seed is utilized as an adjunct treatment for gout and rheumatoid arthritis.
4. Antioxidant Property: Like many other vegetables, celery seed is rich in antioxidant chemicals. Antioxidant is important to the body because these chemicals help neutralize free radicals inside the body. Free radicals are toxins which are harmful to the cells of the body by interfering with cellular division and tampering DNA replication.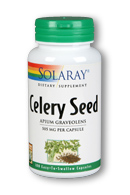 5. Fatty Acid Source: Celery seed is found to contain high amounts of omega – 6 fatty acids. Together with the other essential fatty acid omega – 3, omega – 6 fatty acids is important in the functioning and health of the nervous system. These fatty acids are also significant for the normal growth and development of the body. These chemicals are also found to have the ability to improve the health of skin and hair, promotes strong bones, regulate metabolism and maintain reproductive health.
Celery seeds can be eaten raw dipped in dressing of choice. It can also be consumed together with other vegetables in a certain dish or recipe. Other preparations of celery seed include decoction and tincture. To prepare a decoction, add one – half teaspoon of powdered seeds to one cup or 200 mL of water.
Celery seed is available in easy to swallow capsules. Grab some today and feel the difference!
Our Price: - $ 8.99 ...






Our Price: - $ 12.10 ...






Our Price: - $ 15.99 ...






Guarantee:
VitaNet® LLC Offers a 100% Satisfaction Guaranteed!